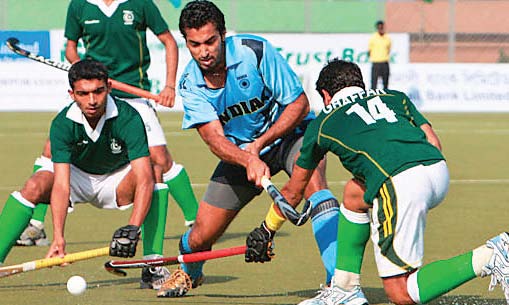 ---
KARACHI: National Bank of Pakistan (NBP) recorded a formidable 9-5 win over KESC while SSGC recorded a 5-1 victory over Air Force in 57th National Hockey Championship at the Hockey Club of Pakistan in Karachi.

Mohammad Atiq and Akhtar Ali both scored hattricks while Abdul Haseem Khan, Muhammad Taufeeq and Naeem Akbar scored one goal each for NBP. For KESC, Amir Ashiq and Irfan Khan scored two goals each while Muhammad Aleem Bilal scored one goal but with the bankers running riot on the pitch, even the strong fightback was not enough for KESC.

Meanwhile, SSGC dominated their match against the Air Force right from the start with seasoned Shakeel Abbasi scoring a brace. Sajid, Istiaq Mubeen and Shabbir Ahmed scored one goal each for the winning side while Imran Hafeez scored the lone goal for Air Force who surrendered meekly when facing a strong and aggressive SSGC line-up.

The last match of the day ended in a 1-1 draw between Pakistan International Airlines (PIA) and Army. Muhammad Irfan pulled his side in the lead early on while Kashif Ali scored the equaliser for Army later in the match to ensure equal points for both sides.

There was controversy on the opening day of the championship with technical officials blatantly violating FIH, hockey's governing body, rules after allowing SSGC team manager to play for his side during their opening match against KESC.

What made the event more shocking was the fact that the foul-play was conducted in the presence of tournament director Iftikhar Syed as well as the rest of the technical officers.

"I am the SSGC coach and a player as well," Syed told a local website after the match.

"I played for my team and also acted as its coach." However, upon examination of the team sheet, it was revealed that Rana Zaheer Ahmad was named as SSGC's coach and, when questioned, even Zaheer seemed puzzled.

"It is true that Syed is our team manager and a player as well," said Zaheer.

"He also played in today's match against KESC. I believe a team manager can also play for his team. But I don't think that Ishtiaq is SSGC coach. I am the coach and he is our manager."

When asked about the rules, Zaheer admitted that the championship was being played according to FIH rules, but added that he did not know much about them.

"Frankly speaking, I don't have that much awareness about FIH rules, but what I know is that manager can also play for his team." Three more matches will be played on Tuesday.

NBP will take on Port Qasim, while Navy is set to face Army. HBL will face up with Wapda in the last match of the day.
COMMENTS
Comments are moderated and generally will be posted if they are on-topic and not abusive.
For more information, please see our Comments FAQ