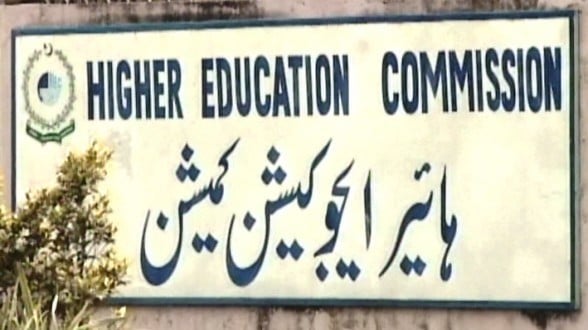 ---
A number of degrees belonging to parliamentarians sent to Punjab University for verification have been found missing, sources stated on Sunday.

The degrees of as many as 313 parliamentarians were sent to the Punjab University, out of which 200 degrees have been verified while the record of some of the degrees has been found missing.

Vice Chancellor Dr Mujahid Kamran called an emergency meeting of the inquiry committee and ordered an investigation into the matter.

14 parliamentarians hold fake degrees

The Higher Education Commission (HEC) on Saturday confirmed that  the graduation degrees of 14 parliamentarians were forged and submitted a report to a parliamentary committee in this regard.

These parliamentarians include four federal lawmakers, three senators, three members of the Balochistan Assembly and two members each from Punjab and Khyber-Pakhtunkhwa assemblies.

The commission also recorded its reasons for declaring the degrees bogus.

Five of the parliamentarians, including two federal ministers, have obtained degrees from foreign universities, which are seen as non-chartered institutions. Among the five, one Shama Parveen Magsi, a deputy of Balochistan Assembly, had secured a BBA degree from the 'International University of America' in London which "is not a chartered university".  Another Balochistan Assembly member Robina Zafar Zehri, had filed a BBA degree awarded by 'My Tech Institute of Management and Information Technology, Lahore, which is also unrecognised by the HEC.

The BBA degree held by the federal minister for livestock, Mir Hummayun Aziz Kurd, was issued by 'Air International University' and the BBA degree held by federal Minister for Postal Services Sanaullah Zehri was awarded by the 'International University of America' in London. Both of them have been declared bogus by the HEC.  The BSc degree which federal lawmaker Mazhar Hayat is said to have obtained from the 'Winona State University' in the US was pronounced a fraud by the university itself.

Other parliamentarians whose degrees were declared to be bogus included Syed Muhammad Suleman Mohsin, MNA, Wasim Afzal Gondal, member of Punjab Assembly, Samina Khawar Hayat and Senator Nawabzada Muhammad Akbar.

The Shah Abdul Latif Bhittai University said that it had abrogated the degree presented by Nawabzada Muhammad Akbar on July 7 this year.  The HEC also placed members of assemblies on the list of fake degree holders who obtained degrees from unregistered madaris. They are Abdul Samad of Balochistan Assembly, Abdul Qayyum Khan and Gulistan Khan of Khyber-Pakhtunkhawa Assembly, Syed Javed Hussain MNA and Senator Wali Muhammad Badini. They had filed their degrees which they said they had obtained from Ittehadul Madaris and other religious seminaries but the HEC has not accepted them as genuine. Meanwhile, the University of Punjab has returned copies of eight degrees to the HEC, declaring them legible. ONLINE

Published in The Express Tribune, July 11th, 2010.
COMMENTS (3)
Comments are moderated and generally will be posted if they are on-topic and not abusive.
For more information, please see our Comments FAQ