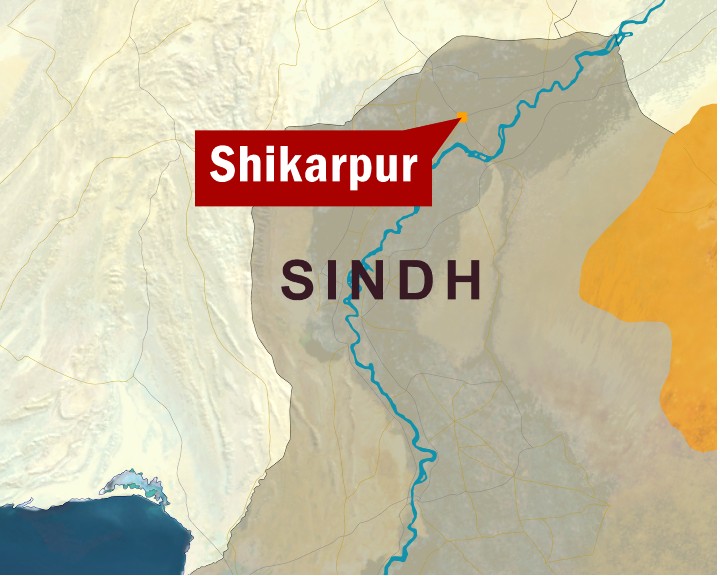 ---
SHIKARPUR: Two SHOs of Golodaro and Ghulam Shah police stations in Garhi Yaseen Town have been suspended following a deadly clash that left 22 people dead on Thursday.

Larkana DIG Operations Dr Sanaullah Abbasi took action against the police officers on the complaints of the victims' families, belonging to the Magsi and Qambrani tribes.

According to Abbasi, he suspended SHO Golodaro Mir Hassan Jakhrani for his alleged support for the Qambranis during the armed clash in Pathan Wah area. Jakhrani has been on the run since the day of the clash and the police have yet to arrest him.

SHO Ghulam Shah Abdul Wahab Rind was suspended and punished by being kept under quarter-guard for helping Jakhrani escape from the police station instead of arresting the culprits, the DIG said.

Abbasi received complaints from Magsi tribesmen that Jakhrani had killed three people of the Magsi tribe and he was also involved in providing illegal support to the Qambranis after their encounter with the Magsi tribesmen.

An inquiry will be conducted against both the suspended police officers and Jakhrani will be arrested, assured Abbasi.

On the other hand, DPO Shikarpur Faizullah Korejo failed to confirm the action taken against the SHOs by DIG Larkana, saying that he was unaware of any such orders.

Meanwhile, workers of the Human Rights Commission of Pakistan staged a demonstration in Moro against the killing of 22 people in the tribal feud in Shikarpur.

The demonstration was led by Pir Nazir Ahmed Shah, Ali Sher Depaer, Zahoor Hussain Khoso, Javaid Mustafa, Muhammad Sharif Korejo, Qalander Buksh Chandio and Abbas Chandio, who appealed to the authorities to stop the bloodshed.

Jatoi clash leaves one man dead

A man was killed and a woman injured in an armed clash between two rival groups of the Jatoi tribe in village Manik Ji Wandh in Shikarpur.

Ghulam Shabbir Tarat Jatoi was killed while Amirzadi, wife of Abdul Hakim Jatoi, sustained bullet wounds in the crossfire between the rival Abdul Hakim Jatoi and Ghulam Shabbir Jatoi groups.

The woman was taken to Madeji hospital for treatment where the doctors said that she was out of danger.

The firing started over an ongoing dispute over a theft and so far four members of both families have been killed.

Gaheja police have yet to register an FIR.

Published in The Express Tribune, July 11th, 2010.
COMMENTS
Comments are moderated and generally will be posted if they are on-topic and not abusive.
For more information, please see our Comments FAQ