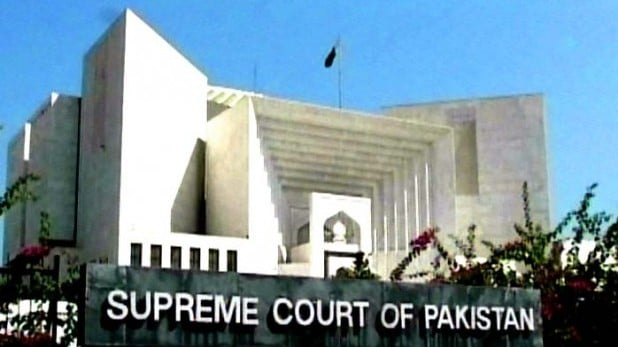 ---
ISLAMABAD: The Supreme Court of Pakistan Thursday dismissed the review petition filed by the 'PCO judges' against the decision in an intra court appeal.

A five-member bench headed by Justice Nasirul Mulk was hearing the case argued by Dr Abdul Basit on behalf of the former chief justice of the Lahore High Court Chaudhry Iftikhar Hussain and former judges Hasnat Ahmed, Shabbar Raza Rizvi and Hamid Ali Shah.

Earlier, the PCO judges had filed an intra court appeal against the contempt of court notices served to them for taking oath on November 3, 2007. Initially, the Registrar's Office returned the petition with objections. But Basit filed another review petition against the objections, saying an official of the Registrar's Office could not exercise the powers of court and so his intra court appeal ought to be taken up for hearing.

During the hearing, however, the SC shot down the petition, saying the judges had violated its verdict declaring the imposition of emergency illegal.

In Thursday's proceedings, Basit argued that Mulk and Justice Raja Fayyaz Ahmed should not sit on the bench because they had earlier disassociated themselves from the bench during the hearing of intra court appeal. Mulk's assertion that the two had subsequently withdrawn their objections did not dissuade the lawyer who insisted he be given the order in writing so that he could challenge it later.

The crux of Basit's plea, too, did not find favour with the judges. The lawyer insisted his clients had taken oath relying on the Zafar Ali Shah verdict, which had been authored by Chief Justice Iftikhar Chaudhry. "In that judgement, taking the oath was declared mandatory for judges in case of an emergency, so that the system stayed functional," argued Basit. "We did not know that later Justice Chaudhry will change his stance."

Despite Mulk's urging that Basit should consider his initial arguments rejected and should argue the merits of his present case, the counsel for the PCO judges kept up with his refrain. Consequently, Mulk dismissed the review petition.

Published in The Express Tribune, July 9th, 2010.