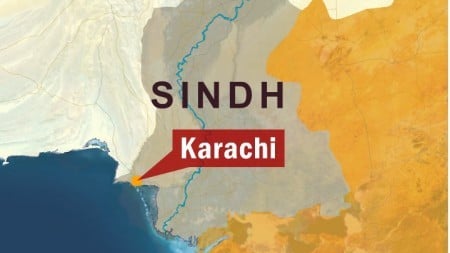 ---
KARACHI: Karo kari is good if your 'honour' is at stake, the police told the villagers - at least initially. After all, they had to get their foot in the door. Once they had people listening, they tried to convince them that it was actually a crime.

It has been an uphill task for the Sindh police who launched their prevention of karo kari project with the UNDP in upper Sindh. The four districts of Sukkur, Ghotki, Khairpur and Naushahro Feroze were chosen because they had the highest rates.

After studying the problem, the police opened a helpline and a study in which officers were trained. Software was created to identify and register cases and a method was devised to handle them effectively. In order to create awareness, teams went from village to village educating the people, landlords, sardars, jirga heads, religious leaders and civil society members.

"It was not easy to talk to these people," said DIG East Barrister Khaliq Shaikh while speaking at the Sindh police seminar on karo kari at a hotel on Thursday. "We had to start with saying that, yes it was a good practice to kill someone who brought shame to the family's honour but then gradually bring them around to condemning the act by telling them that it was not right."

It has been an uphill task but some results have started to surface in the Sindh police's efforts to stem the tide of blood. Two days back, a karo kari perpetrator was given the death penalty because they had merged the main helpline with the local police helpline in Kambar district.

'Honour killing' is not just a Pakistani phenomenon. It dates to the time when men started considering women the repository of their honour. "It was the commodification of woman by man that brought her to a level below him," said Prof M Akmal Wasim of Hamdard University.  It is not about honour but about revenge and murder. "The problem is not in the feudal jirga," Wasim said. "When a woman is killed in the name of honour here, another one is made sati in Hinduism or made a victim of the crime of passion in the West."  It is just religiosity and authoritarianism. A tribal chief uses authoritarianism to have his orders fulfilled and the crime is provided cover by religiosity.

Part of the problem in Pakistan is that karo kari is a domestic problem, and family members often end up forgiving each other, which is explains the lack of prosecution.

MPA Humera Alwani said that among all the issues, injustice to women is the worst as they make up more than half of the population. "Crimes against women persist because we have become tolerant of them," she said. "I feel like it's a target killing in which the entire act is planned."

Out-of-court settlements and the wait for a member of the victim's family to file an FIR are other problems. Alwani plans to move her sixth bill on the ban of jirgas in the Sindh Assembly. "While the jirga system is good for villages, it should be strictly forbidden to settle or decide any cases for women," she recommended.

Shahab Usto, a lawyer and analyst, who was part of the police training, said that there was not much the police can do to curb the issue as it was a socio-psychological problem. "The ultimate culprit is the state," he said. The state accommodates feudalism in the country. "It's the overlapping, or over stepping in which a jirga head or feudal lord himself becomes the minister who doesn't let the State remain neutral."

Now karo kari is no more limited to honour but has become a tool for political, economic, and individual motives. It cannot be rooted out until women are given direct representation, he said.

IG Babar Khattak said that if attitudes are not changed, behaviors will not change. "Do we have integrity of law? Do we have the writ of law? And is society ready to accept the law?" he questioned.  "Basic human rights must be taught to every individual in society so that we produce sensible people."

He said that they had taken the initiative to add as many women to the police force as possible but society was still not ready. "Out of the 100,000 police officers we have only 1,000 women police officers which is a mere one per cent for the 50 per cent population of women," he pointed out.

Home Minister Dr Zulfiqar Mirza felt that no man would "deliberately" kill his daughter, sister or wife. "It is the exploiters who provoke them," he said. "The crime cannot be linked only to Sindh as it exists in different [guises] in the entire country."

He pointed out that in General Ziaul Haq's era karo kari was made a compoundable offence which is why the perpetrators are never afraid of the law. Half of the women police officers were enrolled in the PPP's era with women in many significant power positions.

The hope is that more people will pick up the phone and make that call to the helpline (111-123-588).

Girl shot dead by 'mistake'

An 18-year-old maid, Jameela, was shot dead by a man named Sajjad on Wednesday while she was going to work in Gulistan-i-Jauhar.

Jameela was accompanied by her sister, aunt and a nephew when the murder took place. "We were walking on the road when a ghunda came and grabbed Jameela's hair and shot her," said Naseeba. "We had never seen that man before."

Her family is clueless as to why a stranger would shoot their daughter but the culprit, Sajjad, believed he was killing his niece, Azra, who had eloped some time ago from Rajanpur, near Sukkur.

Sajjad's niece ran away from home and came to Karachi and Sajjad believed he was protecting the family's honour when he killed her.

According to the police, Sajjad revealed during investigations that Jameela resembled his niece and that is why he killed her. Sajjad belonged to Rajanpur, from where Jameela's family also hailed. Sajjad and Jameela also belong to the same caste.

The police have registered two cases -murder and possession of arms - against the accused.

Additional Reporting by Wasiq Mohammad

Published in The Express Tribune, July 9th, 2010.
COMMENTS (2)
Comments are moderated and generally will be posted if they are on-topic and not abusive.
For more information, please see our Comments FAQ