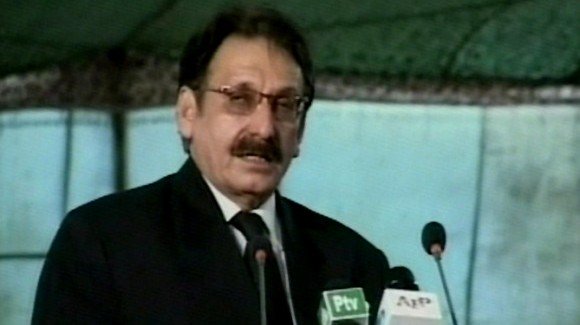 ---
ISLAMABAD: Wednesday saw the continuation of arguments against the 18th amendment before the Supreme Court of Pakistan. The 17-member bench headed by Chief Justice Iftikhar Chaudhry was hearing petitioners Wattan Party's president and counsel Barrister Zafrullah Khan and Rawalpindi District Bar counsel Ikram Chaudhry.

Khan's argument was that the power of the entire parliament has been conferred upon the six persons of the parliamentary committee, who can veto the decisions of the judicial commission. "The parliamentary committee is catastrophic for the independence of the judiciary," pleaded Khan.

"Since the 18th amendment was passed by parliament without a debate, it is unconstitutional and, as a result, the debate which ought to have taken place in the parliament is now taking place in the court," said Khan.

Ikram Chaudhry's formulations centred on the relationship between state functionaries. Substitution of articles 46 and 91 of the constitution, he said, make it mandatory for the prime minister to keep the president in the loop about government affairs. As such, Ikram Chaudhry wanted the court to determine whether the premier is answerable to the president or the parliament.

At this, Justice Tassaduq Hussain Jillani said the president is the head of the state and, as is the practice in parliamentary democracies, is accordingly informed about government affairs. "Do you want the president not to be informed about what is going on in the country?" asked Justice Khalilur Rehman Ramday.

Here Ramday was joined by Chaudhry. "According to article 50 of the constitution, the president is part of the parliament, he is the head of state, he is the supreme commander and you want that he should not even be informed?" asked the chief justice. "The prime minister has been more empowered by the 18th amendment but article 46 has done nothing wrong at all and therefore you should withdraw this argument. Don't politicise the courts; we are the protectors of the constitution," chided Chaudhry.

To Ikram Chaudhry's objections to article 62 and 63 of the 18th amendment, Ramday said the article has been made stricter, which should not have been done.

But here, Justice Javed Iqbal disagreed, saying: "Everything in the 18th amendment is not flawed; there are some good things in it as well. Both the articles have been made more realistic because earlier, the qualifications for members of the parliament put down qualities found only in angels."

Saying the chairman of the parliamentary committee on constitutional reforms Raza Rabbani would be afforded an opportunity to present his point of view, the chief justice adjourned the hearing. When the  court resumes today (Thursday), Ikram Chaudhry will continue with his arguments.

Published in The Express Tribune, July 8th, 2010.
COMMENTS (1)
Comments are moderated and generally will be posted if they are on-topic and not abusive.
For more information, please see our Comments FAQ