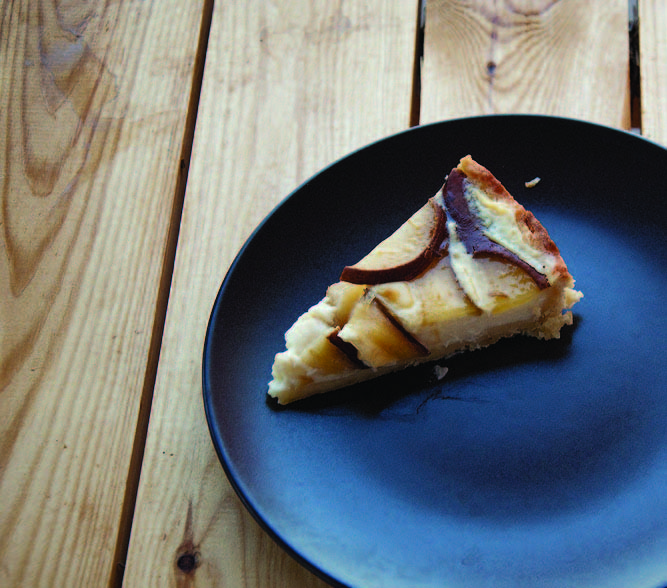 ---
The Nimat-Namah, known as The Sultan's Book of Delights, is a late 15th Century book inscribed in Persian, for the Delhi Sultanate represented by the Sultan of Mandu, Ghiasuddin Shah, and completed under the reign of his son. Housed at the Oriental and India Office Collections of the British Library, it contains page after page of intricate miniatures, painted in jewel-like tones in the distinctive Shirazi style.

The sybaritic Sultan Ghiasuddin Shah had a rather blasé attitude towards courtly affairs, with a preference for, "Women, Wine or Snuff" — and, of course, culinary pleasures. He had a coterie of women swirling around him, serving him delicacies of flaky, musk-spiced deer meat samosas and puddings steeped in essence of rose. The Sultan's kitchen was heavily influenced by the cuisine of the Persian courts.

But the Sultan missed a worldly delight: the capsicum. This bell pepper only came to India in the 16th century and there are no capsicum-based recipes in the The Sultan's Book of Delights. The red capsicum is one of my favourite vegetables: it adds a candy-like vibrancy to a salad or a sweet, caramelised note when impaled on a skewer alongside glistening onions and chicken kebabs. It is through my paternal grandmother, a Pakistani with Persian ancestry, that I learnt to prepare Dolmeh Felfel, an Irani dish. Basmati rice, verdant herbs and fragrant savoury mince are encased in a capsicum shell. I have steamed, rather than baked it, in a tomato sauce, in order to preserve the integrity and shape of the capsicum, and perfumed it with delicate emerald leaves of mint. When served, all this dish asks for is a slathering of creamy yoghurt.

A few cooking notes:

•Please do use the scarlet version of the bell pepper, or even the buttercup-yellow or orange ones. Perhaps one should veer away from the green variety; it has been rightly said that green bell peppers are "merely unripe red peppers", with which I agree. They impart a sour taste which, in my humble opinion, would not meld nicely with the subtly-spiced stuffing.

•I prefer steaming the pepper to baking it in the traditional manner. This helps the pepper maintain its shape, rather than slumping down over itself with the papery skin escaping from its tender flesh.

•Insert the blade of a sharp knife to test for doneness; if it glides through, it is ready.

•Feel free to use leftover Basmati or savoury mince.

•Mint is a favourite herb in our kitchen, but you can play around with other herbs in this dish: parsely, dill, chives or tarragon.

•I do not use lean meat to prepare this dish. Because of the fat-content of the meat, I do not add any oil when preparing the savoury mince.

Dolmeh Felfel (Serves 4)

Preparation time: 1 hour (includes cooking time for the mince, rice and tomato base)

Active Time: 30 minutes

Ingredients:

4 red capsicums

1 lb minced beef or lamb

1 + 1/4 tsp salt

1 + 1/2 garlic clove, minced

1 small onion, finely chopped

1 13 oz can tomato sauce (set aside 2 tbsp tomato sauce for savoury mince)

pinch chilli pepper

pinch turmeric

1 cup water

pinch cinnamon

2 cups cooked Basmati

a bushel of fresh mint, in chiffonade form yoghurt for serving alongside dish

Step 1: Prepare the savoury mince:

* In a heavy-bottomed pan add beef (or lamb), 1 tsp salt, 1 minced garlic clove, minced onion, 2 tbsp tomato sauce, a pinch of chilli pepper and turmeric, 1 cup water. Stir, cover and leave to cook on a low-medium flame for one hour. Stir/check every 20 minutes; *When the meat looks ready, turn the heat to medium-high and stir till the water has evaporated;

Step 2: Prepare the tomato base:

*In a pan with a large surface area (this pan will be used later for steaming the peppers), fry on a medium flame, 1/2 clove of garlic till golden and fragrant, add the canned tomato sauce, 1/4 tsp salt and a pinch of cinnamon. Stir for 5 minutes. Leave to rest;

Step 3: Prepare the Basmati rice

Step 4: Assemble

*Once the rice has cooled, add the savoury mince and toss lightly with a fork, so as not to break the delicate Basmati grains. Add the mint chiffonade;

*Cut carefully around the bell pepper's stem to create a lid. Remove it, and slice the thick white skin underneath it. Wash the inside of the pepper, removing any seeds;

*Spoon the stuffing into the pepper and replace the lid.

Step 5: Steam

*Place the capsicums upright in the pan with the tomato base, add half a cup of boiling water, cover with a lid and let the peppers steam for 25 minutes over a low- to medium-flame. Serve with lashings of creamy yoghurt.


Shayma Owaise Saadat, a Pakistani-Afghan with Persian ancestry, is the author of the food-memoir-style blog "The Spice Spoon: Cooking Without Borders" (www.thespicespoon. com). She is a Senior Policy Advisor for the Ministry of Energy and Infrastructure, Canada. Shayma lives in Toronto with her husband.


Published in The Express Tribune, July 11th, 2010.
COMMENTS
Comments are moderated and generally will be posted if they are on-topic and not abusive.
For more information, please see our Comments FAQ