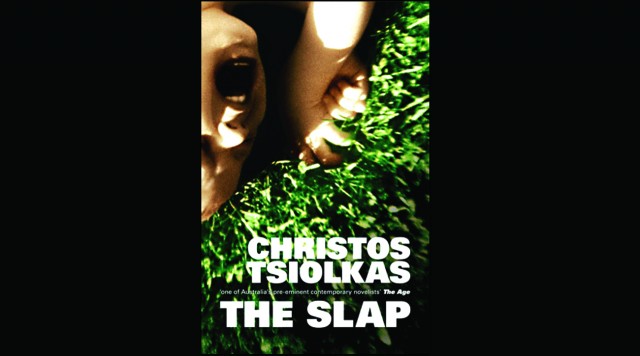 ---
The Slap is the fourth book by Australian Christos Tsiolkas, one which has pitched him into the international limelight after it won last years Commonwealth Writers' Prize. An instant bestseller in the antipodes, it has taken some time for publishers to release The Slap to a wider, international audience, but upon doing so it has flown off bookshelves. The success of this novel brings to mind the 2001 publishing triumph that was Ian McEwan's Atonement, a book that sells by the truckload, along with winning literary awards and critical acclaim.

The Slap opens at a suburban neighbourhood barbecue which, as anyone who watches Desperate Housewives will be able to tell you, is an accredited hotbed of hostility, hypocrisy, resentment, infidelity, suspicion and other such neighbourly activities. The gripping first chapter scans the party, providing tantalisingly brief, and always credible, character sketches and a sense of foreboding which climaxes in the incident from which the novel takes its name. A monstrously spoiled four-year-old child is slapped by a guest at the barbecue. The childs parents, hippie New Agers who teach their son mantras such as every feeling is legitimate, in turn slap their sons assailant with a law suit. The book then delves into the lives of eight characters directly affected by this incident, narrating the rest of the story from their very different viewpoints.

The cast includes Aisha, an Indian vet, Rosie, reformed white trash, Bilal, an aboriginal convert to Islam, and Richie a sensitive outsider coming to terms with his sexuality. They are largely fleshed out with utter conviction. Tsiolkas handles some characters points of view more skillfully than others, failing, for example, at convincingly humanising Anouk, the hardened career gal pondering over a distinctly modern concern, whether to have a baby and shoulder unwanted responsibility while the same energy could instead be poured into her career. This is contrasted with the self-abnegating path of social and familial obligation dutifully trod by Manolis, an elderly Greek immigrant.

Along with themes of immigration, integration and the perceived threat of Islam (handled with a level of subtlety that should make most Subcontinental authors blush at their ham-handed attempts at the same topic), the most important player in this novel is the notion of marriage. Boy, does it come off as a bleak institution, even bleaker for being necessary. The three marriages that are closely interrogated in this book do not provide romance and spiritual nourishment but instead safety, financial security, routine, an escape from individuality, a place to hide from one's own impulses. They are terrifyingly real, as is Tsiolkass portrait of the crisis of masculinity, whereby men flail about, no longer king of the castle, casting about for some forum in which to display their potency, be it via adultery or alcoholism and bitterness.

Discussing the origins of the story, Tsiolkas cites an incident where an elderly relative of Greek ancestry lightly smacked a child at a party. While the incident didnt explode in the same way as the titular slap of his novel, it provided the seed of a thought, it brought home to Tsiolkas the fragility of a barely-integrated society of people of vastly different values and identities, and what better place to see them in play than in child-rearing methods.

Published in The Express Tribune, July 11th, 2010.
COMMENTS (2)
Comments are moderated and generally will be posted if they are on-topic and not abusive.
For more information, please see our Comments FAQ