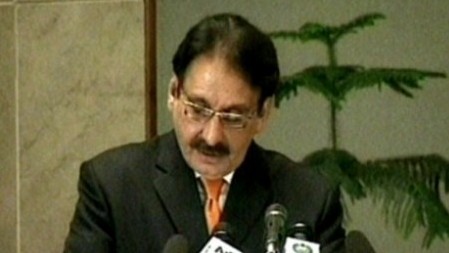 ---
Supreme Court (SC) Chief Justice Iftikhar Chaudhry said the courts must not be dragged into politics.

He said this while hearing petitions challenging the 18th amendment. The petitions are being heard by a 17-member bench headed by Chief Justice Iftikhar Muhammad Chaudhry.

The chief justice also said that judges are custodians of the constitution. He said the president is the head of the state and parliament must keep him updated on all state matters.

During proceedings, Watan Party counsel Barrister Zafarullah presented his arguments against article 175-A, which deals with the procedure to appoint judges. He said one third of the constitution has been changed by the 18th amendment.

He also said he supports the formation of a judicial council, but the idea of a parliamentary committee formed to implement the 18th amendment is impractical.

In Tuesday's hearing, the chief justice said chairman of the constitutional reforms committee, Senator Raza Rabbani, will be given the opportunity to present his point of view.

The hearing has been adjourned till Thursday.
COMMENTS (7)
Comments are moderated and generally will be posted if they are on-topic and not abusive.
For more information, please see our Comments FAQ