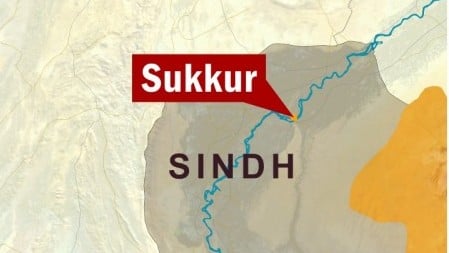 ---
Angry rice farmers from Sindh and Balochistan have been protesting at the Sukkur Barrage for a few days now against landlords and MNAs, who they say have siphoned off water meant to irrigate 10 million acres at the crucial planting season that ends in July.

They vowed to stay there as long as it takes to get water. They also argued that just one, instead of two engineers, should be in charge of the Sukkur Barrage Regulatory System for greater efficiency.

The desperate farmers have been waiting since May to plant the crop, which yields more the sooner the seeds are sown. The water was released into the canals for Sindh but has been diverted off by MNAs, MPAs and bigwig landlords as a result of which 80 per cent of the crop has not been planted.

"Some places have become no-go areas and influential people are taking the water by force from those areas," said DCO Shikarpur Saeed Ahmed Magijo while talking to Express News. "The police have been called to tackle this matter and the Rangers can also be called if the police cannot control the situation."

Farmers cried out against the locally elected representatives who they said had closed the headworks of Joi Shak and Degari Sindh Canal among other streams to divert the water to their own land.

Smaller farmers are a little better off. They have been able to prepare the rice crop in their nurseries by using water from tube wells but this has not been enough to transfer to their land. This problem is not limited to Sindh. Rice growers in Balochistan are also angry about a shortage of water. A provincial minister even warned Sindh that not enough water was being released into the Kirthar Canal. In response, the Sindh secretary for irrigation Shuja Junejo said that the warning was "inappropriate". He claimed that 1,600 cubic feet per second (cusec) of water was sent. This is, however, 800 cusecs short of the 2,400 cusec minimum set by the Indus River System Authority. Junejo said that they couldn't provide the entire amount because of a shortage.

Shikarpur district

Shikarpur district and its adjoining areas have also been short of water for the same reason. Here too the rice crop has suffered and thousands of acres are barren. Farmers said that water was released into the BS feeder but MNAs and MPAs have forced headworks at lakes and waterways to shut down so that they can use the supplies for their own lands.

More than one million acres of land in Shikarpur and Jacobabad get their supply from Choi Shakh and Begari Sindh waterways. The district's administration has decided to ask the police and rangers for help to wrest the headworks from the control of MNAs and MPAs.

Published in The Express Tribune, July 7th, 2010.
COMMENTS
Comments are moderated and generally will be posted if they are on-topic and not abusive.
For more information, please see our Comments FAQ