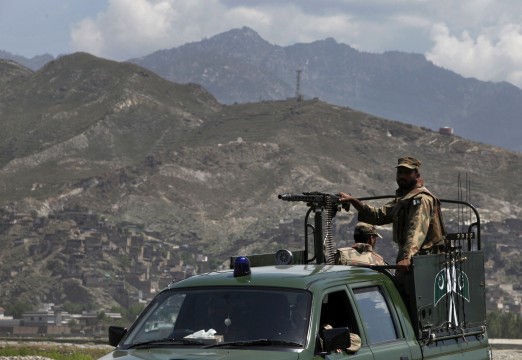 ---
LOWER DIR: Security forces killed at least 23 militants in an exchange of fire during a search operation in the country's troubled northwest, officials said on Tuesday.

The clash took place in remote Kilpani village of Lower Dir, the district where four bombers armed with car bombs and rockets attacked a paramilitary checkpoint killing one soldier early on Sunday.

A senior military official told AFP that police, paramilitary and army were carrying out a joint search in the village when a group of about 50 insurgents opened fire on them, triggering a gunbattle.

"Security personnel killed 23 militants and destroyed three of their hideouts in the village," he added. A senior police official in the area, Khan Razzaq, confirmed the incident and said that militants had managed to escape under the cover of darkness.

Security forces waged a major offensive against the Taliban in Lower Dir and the neighbouring Swat valley last year but says the region was back under control.

Security forces have fought against the Taliban in the lawless tribal belt on the Afghan border and parts of the northwest for years, but deadly clashes break out on largely a daily basis.
COMMENTS (2)
Comments are moderated and generally will be posted if they are on-topic and not abusive.
For more information, please see our Comments FAQ