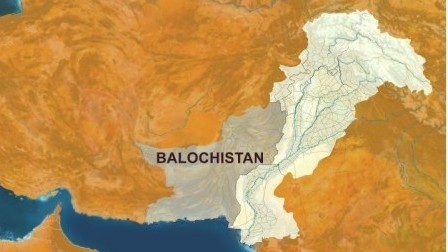 ---
Provincial Irrigation Minister Mir Aslam Bizenjo on Monday said that water supplied to Karachi from Hub Dam would be cut off immediately if the Sindh Irrigation Department did not release Balochistan's complete share of water.

Addressing a crowded news conference at the Civil Secretariat, Bizenjo alleged that the Sindh Irrigation Department's 'dishonesty' had devastated millions of acres of crops across Balochistan.

"We are not ready to give Sindh more time on this crucial issue and soon will call a meeting of the cabinet to announce the closure of water supply to Sindh from Hub Dam," he said.

Bizenjo reminded his audience that at a June 24 meeting in Karachi chaired by Sindh Chief Minister Qaim Ali Shah Sindh Irrigation Department officials had assured everyone that Balochistan's share of water would be released by July 1, but nothing had happened so far.

The irrigation minister rejected the Sindh Irrigation Department's claims that water was not being released into the Keerthar Canal due to low water levels at Sukkur Barrage. The minister said that 4,100 cusec of water was being released into Sindh's own canals from the barrages, so this justification was not valid.

Outlining the current position in Balochistan, Bizenjo said the Manjhoti canal was receiving 465 cusecs of water against its due share of 600 cusecs; the Och Canal was receiving 540 cusecs against its due share of 700 cusecs, and the Keerthar Canal was receiving 1,370 cusecs against its due share of 2,400 cusecs. He did however say that the Pat Feeder canal was getting its due share of water, 1,700 cusecs.

The minister demanded that the federal government deploy Rangers on canals bringing water from the Sukkur Barrage to Balochistan, saying that Balochistan's fair share of water was being stolen with the Sindh Irrigation Department's help.

He also demanded that the federal government initiate a monitoring system on the Indus River comprising representatives from both Sindh and Balochistan.

He appealed to President Asif Ali Zardari and Prime Minister Syed Yousaf Raza Gilani to intervene on Balochistan's behalf.

He also appealed to the MQM to urge relevant authorities in the Sindh government to release Balochistan's share of water. (Additional input from APP)

Published in The Express Tribune, July 6th, 2010.
COMMENTS
Comments are moderated and generally will be posted if they are on-topic and not abusive.
For more information, please see our Comments FAQ