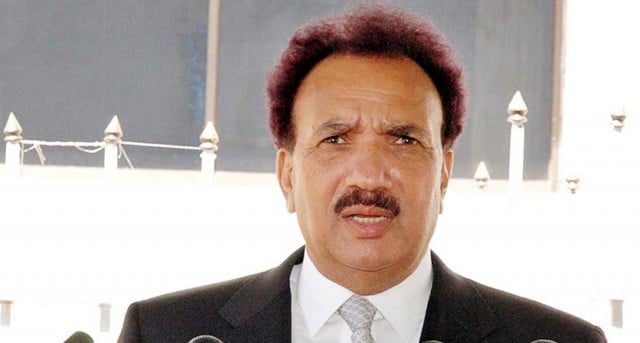 ---
KARACHI: The head of the Tanzeem-ul-Madaris Pakistan on Sunday took a swipe at a government-sponsored conference on security and counterterrorism issues, citing it as an inadequate response to the threat posed by terrorists.

While voicing condemnation for the 'Data Darbar' blast, Tanzeem-ul-Madaris Pakistan chief Mufti Munib-ur-Rehman said that the conference convened by the government was "useless."

He pointed out that the Data Darbar bombings were deplorable and a testament to the government's failure to tackle terrorism.  "This incident is an example of the ineligibility of the rulers," Mufti Munib told a press conference on Sunday.

According to him, the office-bearers of an outlawed group were very close to both the federal and provincial governments. He was also critical of Interior Minister Rehman Malik and accused him of neglecting his duties.  "The interior minister does not have time for the protection of citizens. And he ought to be given the portfolio of reconciliation instead of interior affairs," he said.

Mufti Munib said the shrine of Ali Hajveri, popularly known as Data Gunj Baksh, was a centre of devotion across the subcontinent and all schools of thought had felt pain and anguish over the July 1 attacks.

He said the government had two options, either to continue its rule by forsaking its principles and the requirements of the masses or it could protect the shrines of the saints.  He made it clear that suicide attacks were forbidden in Islam.

In response to a question about the prime minister's convening of a multiparty conference, he said that terrorism could not be controlled by the mere arrangement of a conference.

He accused the governor of Punjab and the law minister of hobnobbing with the leaders of outlawed militant groups. "No proper arrangements have been made for the security of shrines."

"Since Rehman Malik is busy in reconciliation talks with annoyed allies perhaps he should be given the portfolio of reconciliation minister, while every Shah and Makhdoom identify themselves with the Ahle Sunnat but their links come up with the terrorists," Mufti Munib added. Online

Published in The Express Tribune, July 5th, 2010.
COMMENTS
Comments are moderated and generally will be posted if they are on-topic and not abusive.
For more information, please see our Comments FAQ