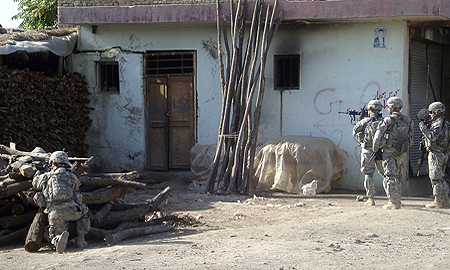 ---
A suicide attack in northern Afghanistan killed three people, including a German citizen. The target was the office of a US aid contractor in the Kunduz province.

At least four suicide bombers stormed inside the US aid organization's office early on Friday morning. Governor of Kunduz, Mohammad Omar said that the first suicide attacker detonated at the entrance of the compound, while the second detonated inside the premises.

He confirmed that one security guard and one policeman have been killed, while 20 locals and policemen have been wounded. A large number of police surrounded the area and gunshots were heard from inside.

The Taliban have claimed responsibility for the attack.


The Taliban are stepping up attacks on foreign targets in reaction to intensified efforts by the US and Nato to rout the militants, particularly from their strongholds in the south of the country. Friday's attack came just days after Taliban gunmen attacked a major Nato base in the eastern city of Jalalabad, setting off a car bomb and firing rockets.
COMMENTS
Comments are moderated and generally will be posted if they are on-topic and not abusive.
For more information, please see our Comments FAQ