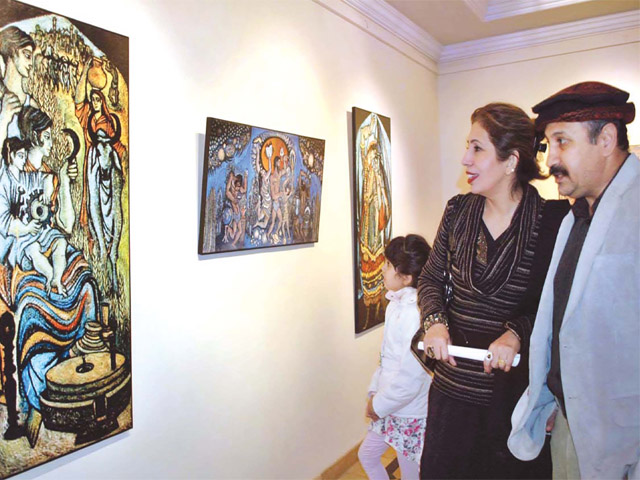 ---
KARACHI: It is a masterpiece that leaves art lovers enthralled. Sadequain's mural on the ceiling of Karachi's Frere Hall is one of his most well-known works, but it lacks the care it deserves.

Saeed Ahmad, an assistant district officer of the City District Government Karachi's culture department, who looks after the place, says that, "Earlier many foreigners would come to Frere Hall and appreciate this work and compare it to Michaelangelo's work. But this does not happen anymore."

Visitors to the Frere Hall have been reduced to a mere trickle after a series of bomb blasts that targeted the Pak American Cultural Centre and the US Consulate, which are in the immediate vicinity. The Frere Hall park was made off-limits to visitors, who used to throng it in the hundreds. Poetry recitations and a regular book sale also ended.

When asked what the government is doing to protect the Frere Hall and the mural, a visibly agitated Ahmad avoided the question. Art enthusiasts have complained that the mural has not been maintained properly.

"Work on the mural started in 1986 and was left incomplete on February 10, 1987 because of Sadequain's death."

Sadequain was working along with his student Anwar on this mural, and was in-residence at the hall.

According to Ammad Tahir, students find the mural highly inspirational. Tahir, who teaches Fine Arts to final year students at the Indus Valley School of Arts and Architecture says, "I feel that this work deals with the differences between Islamic ideology and personal freedom. It speaks about the open mindedness. He is trying to make a comment. He is perhaps bringing his own experiences and this is an entirely new perception of Islam that is not radical or extremist.

Students from various art schools used to visit Frere Hall to see the mural and get inspiration for their thesis work but since one now needs to take permission before visiting the premises, few bother to make the trek.

Riffat Alvi, a painter and the curator of Karachi's VM Art Gallery, says, "It is a marvellous piece, a beautiful piece by Sadequain. One must give it great care. Work by this artist should be protected for the next generation to come and see."

Published in The Express Tribune, July 2nd, 2010.
COMMENTS
Comments are moderated and generally will be posted if they are on-topic and not abusive.
For more information, please see our Comments FAQ