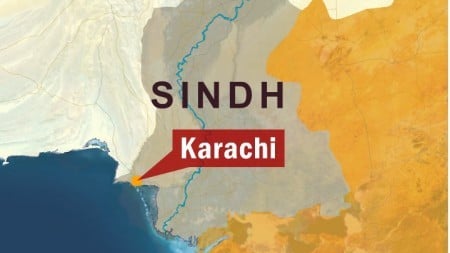 ---
KARACHI: The city could find itself in big trouble if monsoons fail to make their way to Karachi this year. The Hub Dam is only eight feet away from dead level, and if the rains do not take place this season the situation will assume critical proportions.

Hub Dam supplies water to the entire city and parts of Balochistan as well. It supplies water to Baldia Town, Orangi Town, Qasba Colony, Site Town and other adjoining areas and if the rains do not come, a water crisis will engulf the entire city - more so than it already has.

According to chief engineer bulk for the Karachi Water and Sewerage Board (KWSB), Najam Alam, the total capacity of Hub Dam is 346 feet but the water level has come down to 209 feet. The dead level is only eight feet away, he added.

"Water in the dam will run out by August if it does not rain this year," he predicted, "There will be no water supply to the city if this happens."

Alam said that, in one month, the water level in the Hub Dam recedes by four feet. "We pray to God that we can pass through these difficult times," he said.

The Hub Dam was built in 1981 and covers an area of 717,000 acres. A vast majority of the area has desert-like topography, marked by tall sand dunes.

Action against illegal connections

Meanwhile, administrator Shah Faisal Town Kamal Mustafa said that action will be taken against illegal water and sewerage connections as they are contaminating water.

Visiting areas afflicted with the problem on Tuesday, he also took notice of leakages in drinking water connections and ordered the relevant officials to resolve the problem within 24 hours along with a report. KWSB Engineer, Aamir Waqar, XEN Muhammad Zahid and other officials were also present.

Published in The Express Tribune, June 30th, 2010.
COMMENTS (1)
Comments are moderated and generally will be posted if they are on-topic and not abusive.
For more information, please see our Comments FAQ