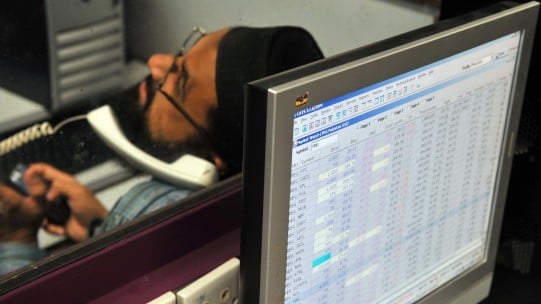 ---
Stocks edged up on Tuesday but trade remained dull, while dealers said volume could improve after the start of the new fiscal year on July 1.

The Karachi Stock Exchange's (KSE) benchmark 100-share index ended 0.32 per cent, or 30.48 points, higher at 9,702.03.

"At the moment, it is very dull and not much is happening," said Sajid Bhanji, a director at Arif Habib Ltd, a local brokerage house.

"There is no interest in the market but I hope that investors would become more active in the new fiscal year," he said. The fiscal year runs from July 1 to June 30.

Trade in the market has been dull in recent days amid uncertainties over the implementation of a new capital gains tax on July 1.

In its budget for the 2010-11 fiscal year, the government announced that a capital gains tax of 10 per cent would be imposed on stocks held for six months or less and 7.5 per cent on stocks held between six months and one year from July 1.

Dealers said the government had previously agreed with the exchange that the capital gains tax would be levied only on profits made from the start of the 2010-11 fiscal year on July 1.

But now there are concerns the government may seek to tax gains made before that date and demand quarterly tax returns instead of the annual filing preferred by brokers, they said.

Trade volume is also likely to pick up if the Securities and Exchange Commission of Pakistan (SECP) reintroduces margin buying.

The KSE authorities and the regulator met last week to discuss margin buying and other leveraged products, and decided to form a committee, which is required to submit its recommendations within 15 working days.

Tuesday's trading volume was 23 per cent lower at 62.85 million shares compared to Monday's tally. The total exchange value stood at a disappointing Rs1.93 billion.

Trade was dominated by second and third-tier stocks once again. At the end of the day, 228 stocks closed higher, 157 declined and 30 remained unchanged in value.

Lotte Pakistan (KSE: LOTPTA) was the volume leader with 8.54 million shares, gaining Rs0.10 to close at Rs8.13. Jahangir Siddiqui Company (KSE: JSCL) came second with 2.98 million shares gaining Rs0.30 to end at Rs12.12. TRG Pakistan (KSE: TRG) came third with 2.57 million shares gaining Rs0.12 to close at Rs4.16.

"Buying activity was witnessed in Pakistan State Oil (KSE: PSO) due to the deletion of the turnover tax clause for oil marketing companies in the finance bill," said Sameer Danawala, an analyst at JS Global Capital. The share closed at Rs263.08, up 0.8 per cent.

Published in The Express Tribune, June 30th, 2010.
COMMENTS
Comments are moderated and generally will be posted if they are on-topic and not abusive.
For more information, please see our Comments FAQ