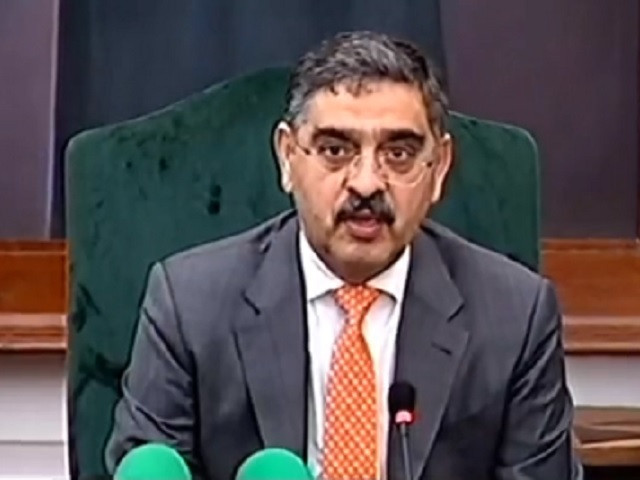 ---
ISLAMABAD:
Caretaker Prime Minister Anwaarul Haq Kakar will travel to Saudi Arabia next month. His inaugural visit to the oil-rich kingdom aims to focus on a plan to revive Pakistan's ailing economy through foreign investment.
Sources at the Foreign Office informed The Express Tribune on Tuesday that the prime minister will undertake foreign visits to three countries, including Kenya, Saudi Arabia, and the United States. His initial destination will be Kenya, from where he is expected to proceed to Saudi Arabia.
During the visit, the PM will meet with Saudi leadership, including Crown Prince Mohammed bin Salman.
Insiders familiar with the matter stated that the objective of his visit will be to advance a military-led initiative—the Special Investment Facilitations Council (SIFC)—designed to reinvigorate the country's economy through investment from Gulf countries.
The SIFC was established during the waning days of the PML-N-led coalition government as part of a plan conceived by the army to attract investment from abroad.
The council's purpose is to address Pakistan's long-term economic challenges, reducing the need for international financial institutions' bailouts and moving away from dependency.
Read also: Social order cannot be compromised for rule of law: Kakar
Saudi Arabia has been identified as a pivotal player for the success of the plan. Riyadh has expressed interest in acquiring stakes in the Reko Diq mines. Additionally, the project to establish a $12 billion oil refinery in Gwadar is also part of the strategy.
The announcement for setting up the oil refinery was initially made in February 2019 during Prince Mohammed bin Salman's visit to Pakistan. However, due to disagreements between Pakistan and Saudi Arabia on certain issues, no progress was achieved.
Renewed interest in the project emerged after the change of government and the recent efforts to attract foreign investment. Following his visit to Saudi Arabia, the interim prime minister will travel to the US. There, he will address the United Nations General Assembly (UNGA) session in New York in September.
Despite the caretaker prime minister's limited mandate, the Foreign Office has recommended his attendance at the UNGA's annual session in New York. The caretaker PM aims to present Pakistan's perspective on key regional and international issues.
Insiders indicated that the rationale behind Kakar's UNGA address stems from the fact that it is an important international event, and Pakistan should not diminish its participation solely due to the absence of an elected government in Islamabad.