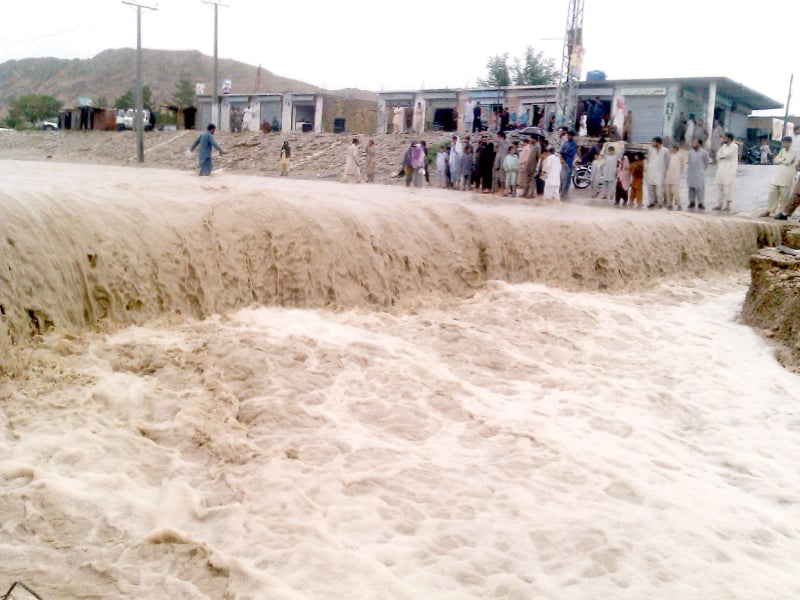 ---
QUETTA:
At least eight members of a family, mostly children, on Saturday died when a flash flood swept away their vehicle in the Awaran district of Balochistan.
Levies sources said the hapless family was travelling towards Jhao tehsil of Awaran when their vehicle was carried away by the deluge.
The victims included three minor girls, three minor boys and two men.
The Levies force and local tribesmen reached the scene and fished out the bodies.
They were then shifted to Jhao Tehsil Hospital.
Also read: Quetta-Islamabad highway blocked for 15 hours
Heartbreaking scenes were witnessed at the hospital when the bodies were brought there.
Balochistan Chief Minister Mir Abdul Quddus Bizenjo expressed his grief and sorrow over the tragic incident. In a statement, Bizenjo directed the administration to provide all possible support to the relatives of the family.
Awaran, Quetta and other districts of Balochistan received rainfall during the day.
The weather in Quetta also turned cold after the rainfall in the evening.
Flash floods unleashed by heavy rainfall last year claimed a large number of precious human lives in the province. Most of the victims were children.
The 2022's merciless monsoon flooding, which caused a financial loss of more than Rs400 billion to the province, claimed 368 lives, rendered thousands of families homeless, and destroyed standing crops and livestock in 32 out of 34 districts of Balochistan.
Furthermore, the road and rail network was adversely impacted as well, which led to the province being cut from the entire country for more than a month, for the first time in its history.
In November last year, Balochistan Chief Minister Mir Abdul Quddus Bizenjo while briefing US Ambassador Donald Blome said the floods had damaged around 125,000 houses in the province.
He added that reconstruction and rehabilitation were the biggest challenges faced by his government.
Bizenjo told the American envoy that Pakistan, Balochistan in particular, had been bearing the brunt of climate change.
Also read: Three terrorists killed in Awaran operation
The torrential downpours and subsequent devastating flash floods inflicted huge damage on the education infrastructure in Balochistan as around 3,000 schools across 26 districts of the province were destroyed or damaged.
This badly hampered the schooling of a large number of students in the public sector that were forced to study under the open sky without any buildings.
The province is already notorious for its lack of proper education infrastructure and floods had badly damaged school buildings built in the past seven decades at a snail's pace.
Balochistan is not uncommon to floods. The province has experienced flood-like situations in 2007, 2010 and 2012. What was unexpected last year was the unpreparedness of the provincial government -- especially the district administrations of Jaffarabad, Jhal Magsi and Lasbela -- despite repeated warnings.
COMMENTS
Comments are moderated and generally will be posted if they are on-topic and not abusive.
For more information, please see our Comments FAQ