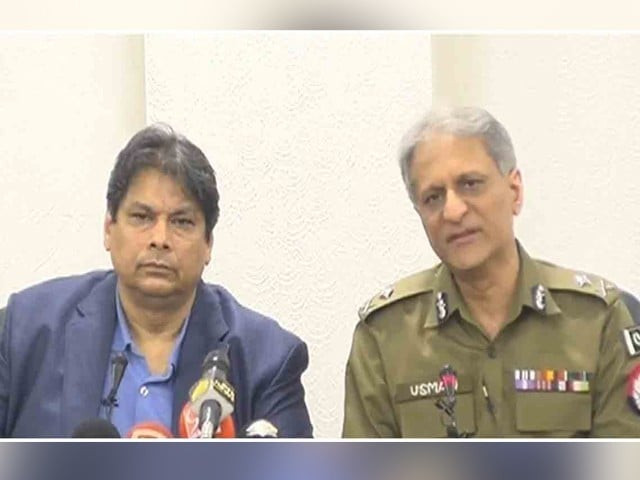 ---
Punjab Inspector General of Police (IGP) Dr Usman Anwar said on Saturday that weapons were recovered during today's search operation at the residence of Pakistan Tehreek-e-Insaf (PTI) chief Imran Khan in Lahore's Zaman Park neighbourhood.
Earlier in the day, the Punjab police launched a surprise search operation at Imran's residence – hours after he left to appear before a local court in Islamabad – and arrested several party workers.
Capital City Police Officer (CCPO) Lahore himself monitored the operation as the police used heavy machinery to break down the gate of Imran's residence.
Police were accompanied by water cannons, bulldozers, and a prisoner van. They soon demolished PTI camps in the area with the help of cranes and removed barriers and containers.
Read more: Police launch surprise 'assault' on Imran's Zaman Park residence
"We have recovered weapons from Imran Khan's house. There are more arms present there. An impression was being given that it is a no-go area but we have cleared it," the Punjab IGP said during a press conference, flanked by Caretaker Punjab Minister for Information Amir Mir.
He said that there were also some bunkers constructed at Zaman Park whereas some bullet-proof equipment was also found. He added that all illegal encroachments have also been removed.
Anwar said that police and Rangers were attacked with petrol bombs but the law enforcers did not respond even with a single bullet. "We kept waiting with search warrant as per the orders of the high court," he added.
The Punjab IGP said that all legal requirements will be fulfiled and not a single innocent person will be arrested. "A case of firearms will be registered against those responsible for concealing weapons."
He said that PTI senior leadership was informed in advance that they were coming with the search warrants but still they faced stiff resistance. "We have not arrested a single person who is innocent. All arrested will be presented before anti-terrorism court."
Read: Imran gets bail relief in nine FIRs
Anwar said that they were only complying with court orders but they were attacked with sticks and petrol bombs by PTI workers who damaged property worth millions of rupees.
He said that the police had earlier stopped the operation on the high court's orders as Pakistan Super League (PSL) matches were taking place in Lahore. "After we stopped the operation, court hearings took place during which the court made it clear that legal proceedings cannot be stopped."
He said that female police personnel were also accompanying their male counterparts during the raid. "We respect women, but when our lady officers were being tortured so what do you think were we feeling good about that?" he questioned. He said that 65 personnel were injured during the raid.
Meanwhile, the Punjab Police claimed to have recovered weapons and liquor bottles from Imran Khan's house, a video of which was shared by Pakistan Muslim League-Nawaz (PML-N) senior vice president Maryam Nawaz.
According to Express News, 16 rifles were found during the raid whereas bottles of liquor and petrol were also recovered.
Police sources said that the weapons appear to be state property which was given to Imran Khan when he was the prime minister but he has not returned them.
Maryam Nawaz also shared a video in this regard.
"Now it is known that since this terrorist Imran was forcibly brought into politics, why is the country suffering from chaos," she wrote while sharing the video on Twitter.
اب پتہ چلا کے جب سے اس دہشت گرد عمران کو زبردستی سیاست میں گھسیڑا گیا، تب سے ملک فتنہ اور انتشار کا شکار کیوں ہے؟ لانے والے بھی اپنے بدترین انجام کو پہنچے، اس کی سیاست بھی رسوائی کے ساتھ اپنے اختتام کی جانب لڑھک رہی ہے۔ pic.twitter.com/j2zMI4b95u

— Maryam Nawaz Sharif (@MaryamNSharif) March 18, 2023
Meanwhile, a video of journalists is making rounds on social media in which they say that they had already made a video of the place where police claim to have found weapons but they did not see any arms there.
It is possible to hide small arms like pistols, but weapons like Kalashnikovs and rifles cannot go unnoticed.
COMMENTS
Comments are moderated and generally will be posted if they are on-topic and not abusive.
For more information, please see our Comments FAQ