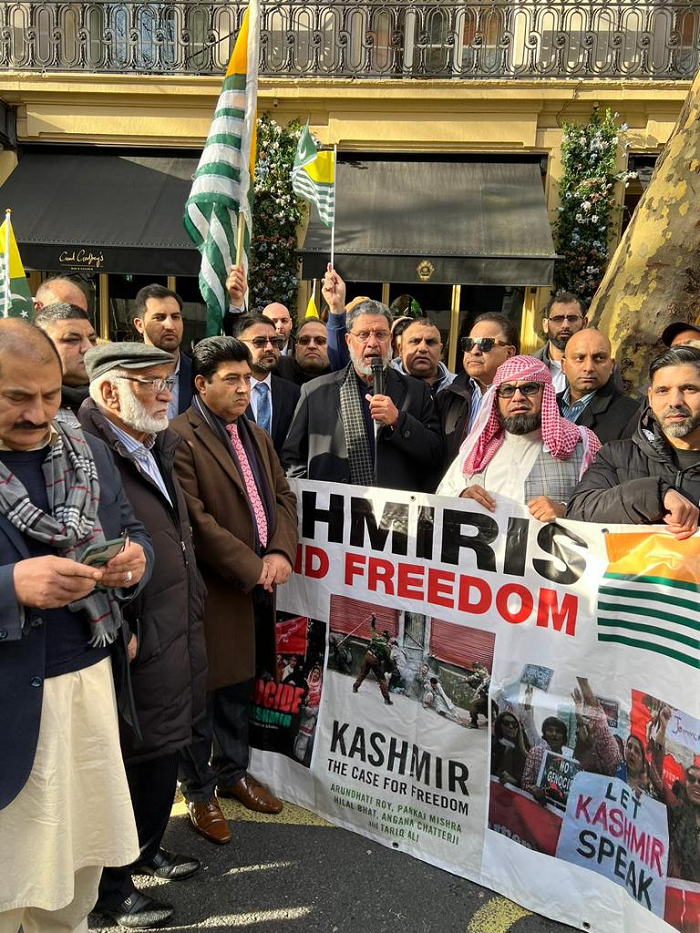 ---
LONDON:
The UK and Europe on Sunday reverberated with call for end to illegal occupation of Indian Illegally Occupied Jammu and Kashmir (IIOJK) as the world marked Kashmir Solidarity Day.
The Tehreek-e-Kashmir (TeK) UK and Europe chapters jointly held rallies, conferences and digital campaigns in Oslo, London, Barcelona, Copenhagen, Glasgow, Luton, Birmingham, Dundee, Nelson, Edinburgh, Manchester, Bradford and various cities of the UK and Europe to highlight ongoing genocide in the IIOJK.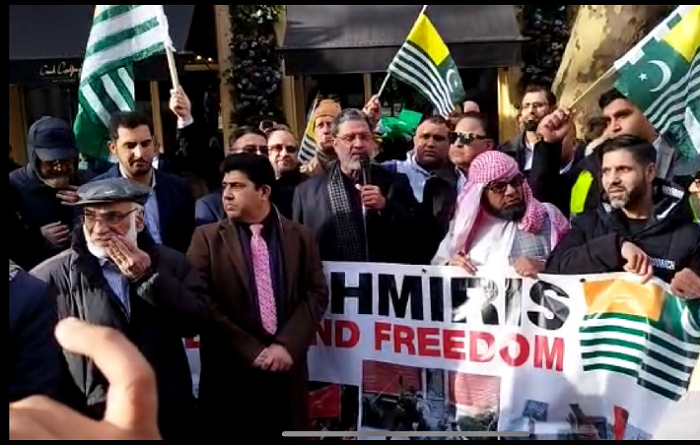 Barrister Sultan Mehmood Chaudhry, president Azad Jammu and Kashmir (AJK), Dr Khalid Mehmood Ameer Jamaat-e-Islami Azad Jammu and Kashmir, British Lord Dr Wajid Khan, Fahim Kayani President Tehreek-e-Kashmir UK , Muhammad Ghalib President TeK Europe, Hanif Raja President TeK Scotland, Shah Hussain President TeK Norway, Adeel Ahmed President TeK Denmark, Shafiq Tabasam President TeK Spain and others attended various programmes held across the UK and European cities.
Barrister Sultan Mehmood told a Kashmir March rally in London that Kashmiris will never surrender "come what may" to achieve their right to self-determination.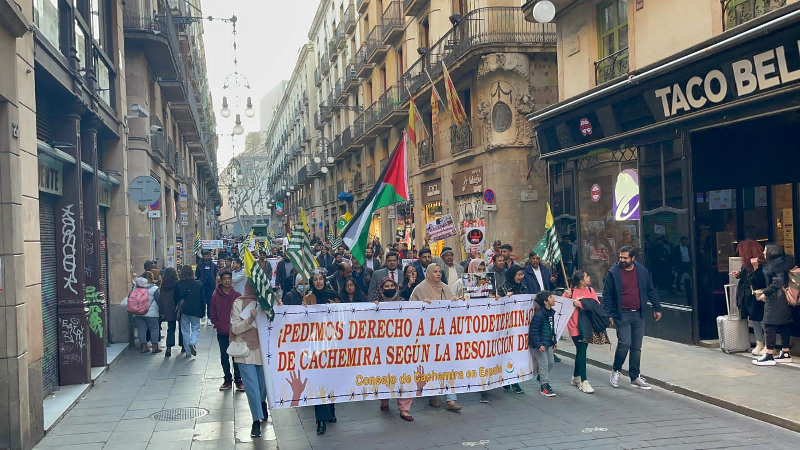 "India's tactics to silence neither worked in past nor will they work in future," the AJK president said, reminding the UK of its moral obligation to intervene in ending illegal occupation of the IIOJK.
Tehreek-e-Kashmir UK also held a digital campaign in the British cities which brought to attention of people towards 75 years of illegal occupation of IIOJK by India.
Also read: Pakistan observes Kashmir Solidarity Day today
People in Pakistan, Azad Jammu and Kashmir and across the world observed Kashmir Solidarity Day every year since 1990 to express solidarity with the people of the occupied region.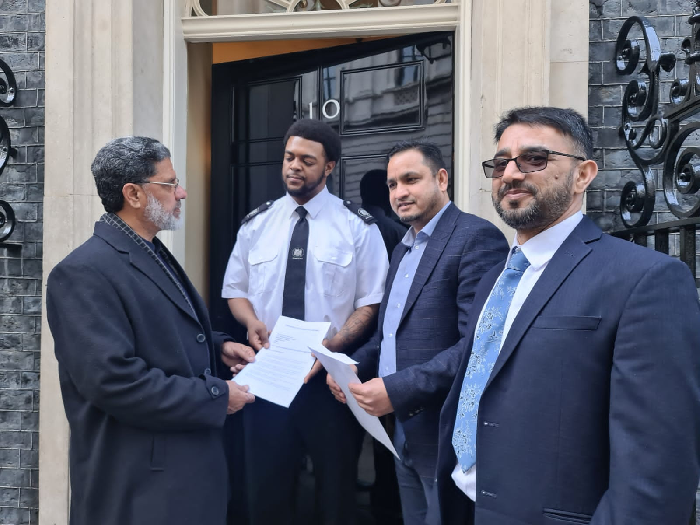 According to TeK UK, digital vans passed through busy streets in London exposing the war crimes and crimes against humanity and demographic terrorism committed by India in IIOJK.
At Downing Street, Dr Khalid Mehmood, chief of Jama'at-e-Islami AJK led a TeK UK delegation of and submitted a petition to the British Prime Minister Rishi Sunak, urging him to hold Indian government accountable for its atrocities.
To express solidarity with people of IIOJK, Fahim Kayani, TeK UK leader, attended a rally in Barcelona, Spain.
"No power on earth can deny Kashmiris their right to decide their political fate," Kayani told the Kashmir March held in Barcelona, urging the Spanish natives to urge their government to intervene in Kashmir dispute.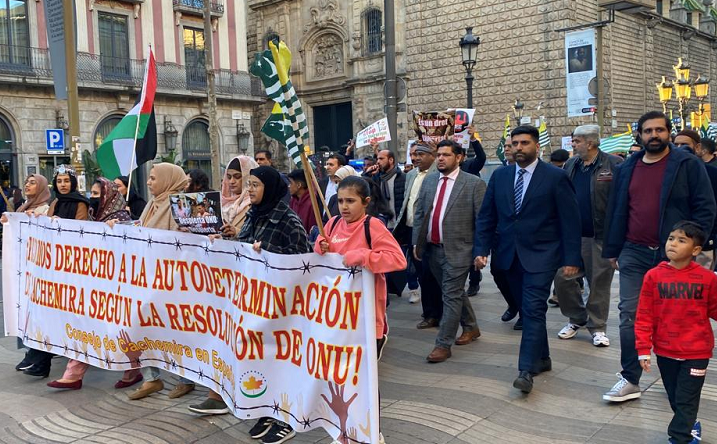 "People attending this solidarity rally is evidence of the fact that Kashmiris are on their right path to throw Indian occupation forces out of Kashmir," Kayani said.
Hailing the brains behind declaring Feb 5 as Kashmir Solidarity Day, Kayani said observing this day reminds the people of conscience the ongoing resistance movement against illegal rule in IIOJK.
"The international community will have to act fast and halt the demographic terrorism conducted by India in IIOJK," said Kayani, drawing parallels with Israeli playbook in occupied Palestinian parts.
At Kashmir March Barcelona, British Lord Wajid Khan said human rights abuses in IIOJK "must stop and the Kashmiri people need to be given their right to self-determination in accordance to United Nations Resolutions".
"It's a fundamental human right to choose who you are governed by and how you are governed.
"The international community needs to do its job and play its role in delivering human rights to the Kashmiri people," he said.
Muhammad Ghalib, president TeK Europe, while addressing a Kashmir March in Birmingham, reminded Kashmiri and Pakistani diaspora of their moral obligation towards the Kashmir cause and becoming the voice of suppressed Kashmiris in IIOJK.
"No amount of activism can fill the sacrifices made by people of IIOJK," he told the solidarity rally in the UK city.
"We will have to close our ranks and move in unison to oust India from IIOJK," said Ghalib, paying tributes to Kashmiri leaders including Shaheed Syed Ali Geelani and Shaheed Muhammad Ashraf Sehrai.
Shah Hussain, president TeK Norway, led a solidarity Kashmir rally outside the Norwegian Parliament and raised the issue of Kashmiri political prisoners.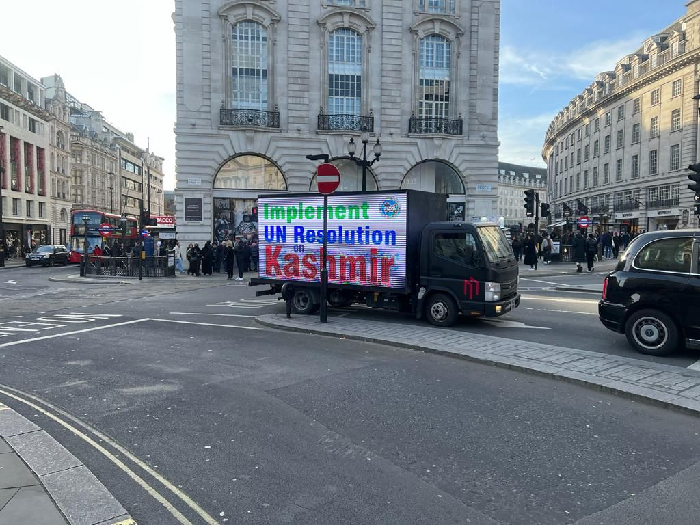 "The abduction and illegal detention of Kashmiri resistance leaders is a slap on the international community which has given a free pass to Indian state," Shah told the rally, urging the Norwegian authorities to engage with India over Kashmir.
Also read: Life after abrogation of IIOJK's autonomy
Chaudhry Saqib Tahir, President Pak Federation Spain led the Kashmir March in Barcelona.
The speakers called for united action against Indian high handedness. "Time is up for Kashmiris and there is an urgent to stand together and work in unison to work towards achieving the right to plebiscite as determined in the UN resolutions," the speaker said.
In Copenhagen, a Kashmir Walk was led by Adeel Ahmed, president TeK Denmark while Kashmir Rally was led Hanif Raja President TeK Scotland, Syed Tufail Hussain Shah, Khurshid Khan and Shukat Sultan Sec Gen TeK Scotland in Glasgow.
Fakhar Iqbal Chaudhry, President TeK Dundee led a Kashmir rally in Dundee while Raja Abid TeK Scotland led Kashmir rally outside the Scottish Parliament.
In Bradford, a Kashmir rally was led by Hafiz Muhammad Azad, Sec Gen TeK UK while Haji Yasin, President TeK Nelson led a Kashmir rally in Nelson.
Nasar Iqbal TeK UK led a Kashmir rally In Manchester and a Kashmir Rally in Birmingham was led by Chaudhry Shanwaz, Mufti Fazal Ahmed Qadari and Chaudhry Ikram ul Haq, TeK Birmigham.
COMMENTS
Comments are moderated and generally will be posted if they are on-topic and not abusive.
For more information, please see our Comments FAQ