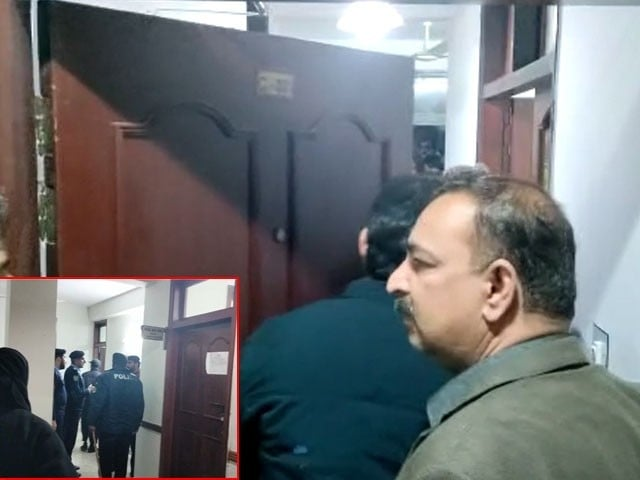 ---
ISLAMABAD:
The Capital Development Authority (CDA) has completed the first phase of the operation to vacate the official residences of the Parliament Lodges from the former members of the National Assembly (MNAs) who were de-notified by the Election Commission of Pakistan (ECP).
During the operation, the locks of official rooms of four former MNAs of Pakistan Tehreek-e-Insaf (PTI), Farrukh Habib, Zahoor Ahmad Qureshi, Shahid Khattak and Shabir Ahmad Qureshi in the lodges were broken and their belongings were taken out while eight former PTI lawmakers voluntarily handed over the keys of the rooms to the CDA.
Shandana Gulzar, a female former member of the assembly, apprised the magistrate that she would vacate the official residence till Monday, after which the CDA would again start the operation.
On Friday, under the supervision of City Magistrate Ghulam Murtaza Chandio, the district administration, CDA enforcement department staff, police and ladies police personnel of the police station took part in the operation.
When the official residences were not vacated even after the deadline of 2pm, the said team broke the locks of the rooms of Habib and Qureshi in Block C of the Parliament Lodges and took out their belongings.
The CDA officials said that eight former lawmakers voluntarily vacated the rooms and handed over the keys to the CDA.
On the request of some former PTI members, the operation was suspended till Monday.
The CDA said that notices were issued on Jan 24 to the de-notified former members on the instructions of the National Assembly Secretariat.
These former members were given a seven-day respite, after the expiration of which, for two more days, the CDA staff concerned repeatedly asked the ex-lawmakers to vacate the family suites.
After this, the CDA had to operate.
In this regard, a senior officer of the district administration told The Express Tribune that an inventory list of the goods in the rooms had been made by breaking the locks under the supervision of the magistrate so that tomorrow these people would not be able to accuse the administration, CDA or the police that any of their valuables – gold or domestic foreign currency – had disappeared.
The videos of all the scenes during the operation had also been recorded, the staff permanently assigned to the Parliament Lodges had also been kept there all the time for the same reason.
COMMENTS
Comments are moderated and generally will be posted if they are on-topic and not abusive.
For more information, please see our Comments FAQ