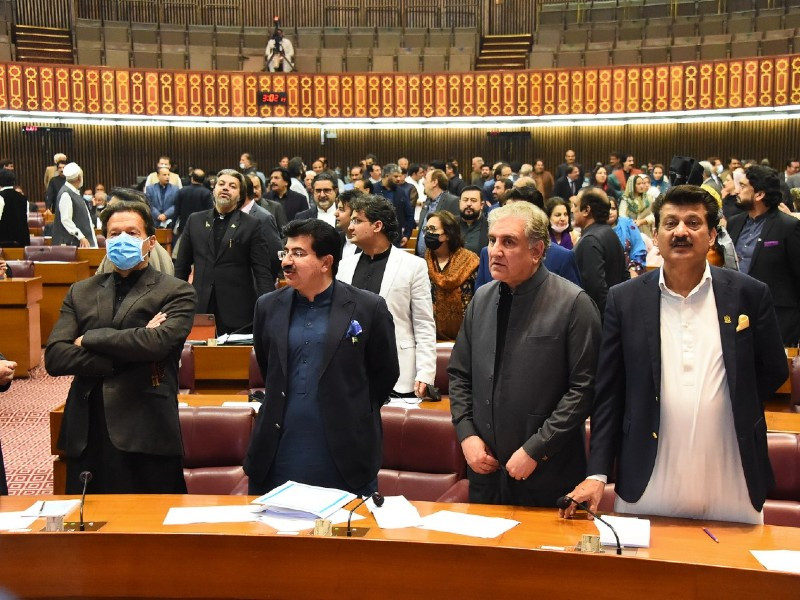 ---
LAHORE:
Forty-three PTI MNAs on Thursday requested the Lahore High Court (LHC) to set aside two of their notifications regarding the acceptance of resignations by the National Assembly speaker and seats being declared vacant by the Election Commission of Pakistan (ECP).
The petitioners, who were among the former ruling party's 123 lawmakers who had resigned en masse from the lower house of parliament and were later de-notified, filed a petition through Barrister Ali Zafar.
Read: Speaker accepts resignations of 43 more PTI MNAs
They contended that their resignations and de-notification should be accepted along with other party members.
They sought the LHC directions to the concerned quarters to declare that petitioners had withdrawn their resignations by conduct, words and in writing in accordance with law prior to any acceptance.
They maintained that after the withdrawal of the resignation, the speaker could not issue any notification regarding acceptance of the resignations.
The notifications issued by the National Assembly speaker and ECP are illegal and unlawful and the court is requested to set them aside, the petition said.
The petitioners further prayed court to suspend the notifications till a final decision on this petition.
A total of 123 PTI MNAs had resigned en masse on April 11 last year – two days after their party chairman was removed from power.
Also read: NA speaker in volte-face on PTI resignations
The petitioners had acted on the directions of the party chief.
Former NA deputy speaker Qasim Suri had accepted their resignations. However, on April 17, newly elected NA Speaker Raja Pervaiz Ashraf gave ruling to reverse the resignations with a direction to the secretariat to resubmit them for verification in accordance with the judgments of superior courts
The speaker decided to hold inquiry and verify each resignation by calling each MNA individually to confirm whether they were willing and ready to resign. The PTI lawmakers did not turn to the speaker for verification following which their resignations were not accepted.
The MNAs neither went to the speaker nor did he call them for verification purpose.
Later on, the speaker in violation of law and his own ruling accepted some resignations.
COMMENTS
Comments are moderated and generally will be posted if they are on-topic and not abusive.
For more information, please see our Comments FAQ