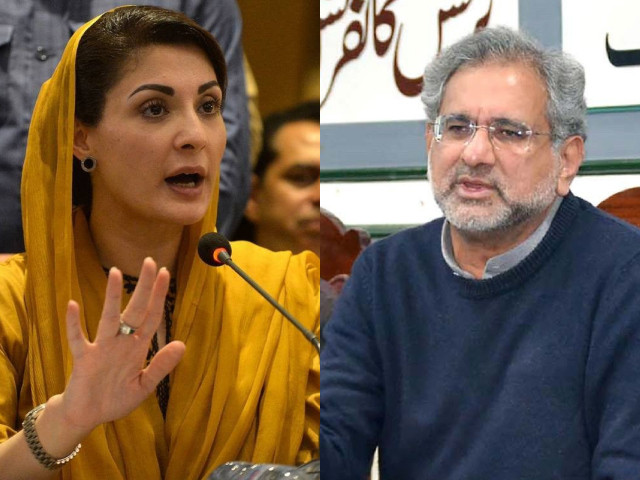 ---
LAHORE:
PML-N's Shahid Khaqan Abbasi on Wednesday confirmed that he had indeed resigned as the party's senior vice president – a move linked to Maryam Nawaz's elevation to the positions of SVP and chief organiser – saying he intended to give the Sharif scion an "open field".
Reports surfaced earlier during the day that Abbasi had resigned from office over differences with the decision to appoint Maryam to the high-ranking office.
On the other hand, hours after the Sharif family's spokesman confirmed the resignation, Maryam in a veiled manner defended her position and said her biggest source of strength – after Almighty Allah – came from the support of her people, and not these positions.
Noting there was a chatter regarding her elevation to the positions, she said she has risen above the need of any office from the day people bestowed her with all their support and love.
"Even now when I am given these two offices, my biggest source of strength after Almighty is my people," she said while addressing a rally.
Further zeroing in on the chatter of dynasty politics surrounding her elevation in and outside her party, she stressed representing people's love and voice was not dynastic politics, but democracy.
Earlier in the day, PML-N leader Muhammad Zubair had insisted that Abbasi had resigned from the party position, contrary to the stance Abbasi's spokesperson denied earlier in the day and termed media reports "baseless".
Zubair added that given the stature of the senior leader – who has served as a prime minister – having no position would not make Abbasi any less important in the party. The party needs him, he added.
Interestingly, Shahid Khaqan Abbasi had reportedly neither confirmed nor denied his resignation. On the contrary, the former premier had reportedly insisted that no statement regarding his resignation has been issued and that the last he checked, he still held the position of senior vice president.
His spokesperson however completely denied the reports, stressing that the PML-N leader has not submitted any resignation from his office.
The development came as swirling rumours regarding Abbasi not being happy with the new party set-up were making rounds for the past several weeks. It also coincides with the commencement of Maryam's country-wide election campaign after returning to Pakistan from London.
Read Maryam to meet Abbasi as PML-N confirms resignation 'rumours'
A party leader ascribed Abbasi's decision to step down to his long-brewing dissatisfaction with the internal workings of the party, with Maryam's elevation further deepening his anguish, serving as the last straw.
He observed that the former premier did not become of the government, as he was not seemingly comfortable with Prime Minister Shehbaz Sharif's leadership either.
Further, the leader himself has served as a premier and working under any other leader besides Nawaz Sharif was "a bitter pill to swallow".
Pointing out that since both PM Shehbaz and Shahid Khaqan Abbasi were vying for party presidency after Nawaz's ouster and also happened to be contenders for the premiership in the last stint, a trivial rivalry between the two was all but natural.
"But it was Maryam's elevation that turned out to be the last straw for him," he added.
Shahid Khaqan Abbasi had also reportedly conveyed his concerns to Nawaz Sharif, following which the party supremo instructed the party leaders to placate the former's concerns.
Recently during an interview, when asked if he saw Maryam as his leader, Abbasi had said that for him his leader was Nawaz Sharif while the party president was Shehbaz Sharif, stressing he would not say "yes or no to other than these two".
He said that Maryam Nawaz has worked for the party workers who recognise her as well and added the Sharif scion will be able to reorganise the party.
During the same interview, he also remarked that he would leave politics if he thought he can no longer contribute to it.
It may be noted here that the PML-N has also recently criticised PTI leader Fawad Chaudhary's arrest over sedition charges, saying the way the latter was brought to the court was abhorable.
Furthermore, while addressing a recently held conference titled "Reimagining Pakistan", he held all political parties responsible for the state of affairs of the country, suggesting that parties across the spectrum and stakeholders should engage in a dialogue to find a way out of this situation.
It is worth mentioning here Muhammad Zubair also revealed that former finance minister Miftah Ismail was still in the party who, since his resignation from the finance ministry has been openly critical of Finance Minister Ishaq Dar's policy
COMMENTS
Comments are moderated and generally will be posted if they are on-topic and not abusive.
For more information, please see our Comments FAQ