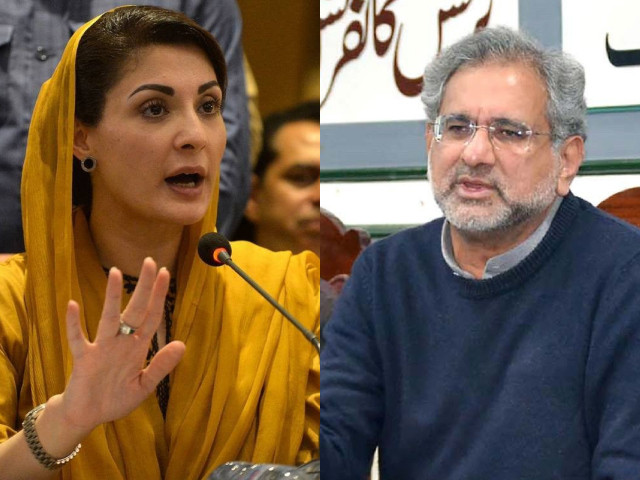 ---
ISLAMABAD:
PML-N Chief Organiser Maryam Nawaz is set to meet Shahid Khaqan Abbasi "soon" after her representative Muhammad Zubair on Wednesday verified reports that Shahid Khaqan Abbasi had tendered his resignation from his position as the party's senior vice president.
Earlier this morning, media reports had surfaced of the senior party leader's decision to distance himself from the role after the recently appointed party Chief Organiser Maryam Nawaz returned to the country.
Read Will Maryam and son connect with common man?
Verifying the reports, Zubair told reporters that "Shahid Khaqan Abbasi is a senior leader and worker of the PML-N. I believe that by quitting his post as senior VP will not impact his stature at all".
"He is a very big leader, he has been the prime minister and the party needs him very much."
Shying away from "bringing up intra-party politics in public", Zubair said that Miftah Ismail was a member of the party and that his replacement, Finance Minister Ishaq Dar, has "a greater status".
With the Election Commission of Pakistan (ECP) having given a deadline to the PML-N to conduct intra-party elections till March 14, local media has reported tensions are brewing within the party.
The disagreements seem to be particularly stark around Maryam's promotion, the finance minister's seat and economic policies.
In her first speech after her return, Maryam Nawaz had assured the nation that she and her father – party supremo Nawaz Sharif – were fully cognizant of the inflationary storm while laying the blame for the crises at the Pakistan Tehreek-e-Insaf's door.
Read More Analysis: Pakistan moves toward deal-or-default endgame
In the meantime at a different event just a week prior to her speech, Shahid Khaqan Abbasi had called for an end to the politics of maligning each other and urged all political forces to put their heads together to bring the country out of the prevailing economic crisis.
"When politics turns into enmity, people's problems remain. It is unfortunate that the economic crisis and failure of politics has reached its peak," Khaqan had said stressing the need for governments to actually perform.
Maryam to meet Abbasi
An important meeting was chaired by Maryam at the party's secretariat in Model Town where she stated that the former premier was an "asset to the party" and assured the attendees of her intentions to meet him "soon".
According to party sources, Maryam has vowed to address Khaqan's reservations while requesting leaders for their recommendations to strengthen the party.
During the meeting, it was also decided that the party would develop its own narrative in contrast to the one maintained by the rival party chief, Imran Khan.
The meeting was attended by Zubair, as well as other leaders including Anusha Rahman, Uzma Bukhari, Malik Ahmad Khan, Talal Chaudhry, Abid Sher Ali, and Mian Javed Latif among others.
'Baseless rumour'
Earlier in the day, Shahid Khaqan Abbasi's spokesperson Hafiz Usman Abbasi dejected the "baseless rumours" of his resignation, saying Khaqan "is the Senior VP of the party".
Also Read Put economy above politics: Miftah Ismail
"He did not quit the party in difficult times, why would he quit now?" he questioned as he reminded reporters that the former premier had fought elections in 1988 as an independent candidate and then joined the PML-N and never looked back.
"He went to jail, but never deviated from his mission," he stressed.
"Nawaz Sharif chose him as PM and even in that position he said that his leader is Nawaz Sharif," Abbasi added.
COMMENTS
Comments are moderated and generally will be posted if they are on-topic and not abusive.
For more information, please see our Comments FAQ