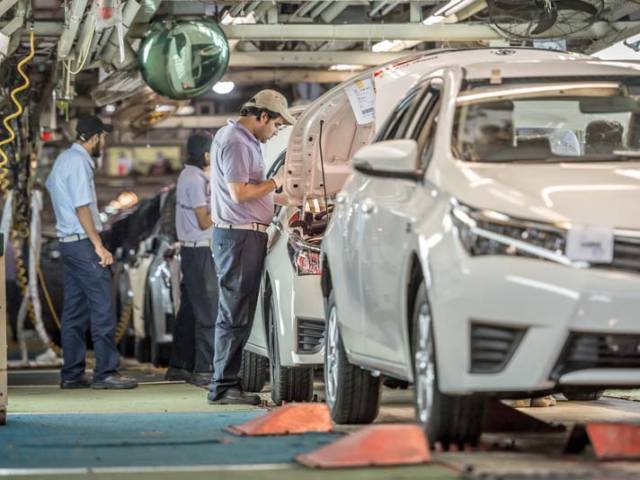 ---
The Indus Motor Company Limited, the assembler and seller of Toyota and Daihatsu vehicles in Pakistan, has said that it is shutting down its plant for two weeks due to inventory shortages.
In a notice filed to the Pakistan Stock Exchange (PSX) on Tuesday, the company said that recent changes by the government in import rules have adversely affected its business, disrupting its supply chain and resulting in insufficient inventory levels to be able to continue production.
"In light of the recently introduced mechanism vide EPD Circular No. 20 of 2022 dated December 27, 2022, (effective from 2nd January, 2023), commercial banks are advised to prioritise / facilitate the imports to specified sectors only, which does not include auto sector," read the company's notice to the shareholders.
Also read: Toyota prices hiked up to Rs1.2m
"This has disrupted the entire supply chain and the vendors are unable to supply raw materials and components to the company. Accordingly, the company has insufficient inventory levels, therefore, the company is unable to continue its production activities," it added.
It further added that it will restart production from February 15, 2023 on only a single-shift basis until further notice.
The company had closed down production plants for 10 days in a similar manner last month, citing the unavailability of letters of credit (LCs) following a State Bank of Pakistan restriction on the import of auto parts.
Also read: Indus Motor closed for business in December
The development came weeks after the company announced a price hike of up to Rs1.2 million for several Toyota vehicles following the country's volatile foreign exchange situation and increase in the price of utilities and overheads.
Two other major auto manufacturers followed suit after the Indus Motor company's announcement, with Honda Atlas Cars and Pak Suzuki Motor Company increasing prices of their vehicles and giving a jolt to consumers already reeling from a soaring inflation.
COMMENTS
Comments are moderated and generally will be posted if they are on-topic and not abusive.
For more information, please see our Comments FAQ