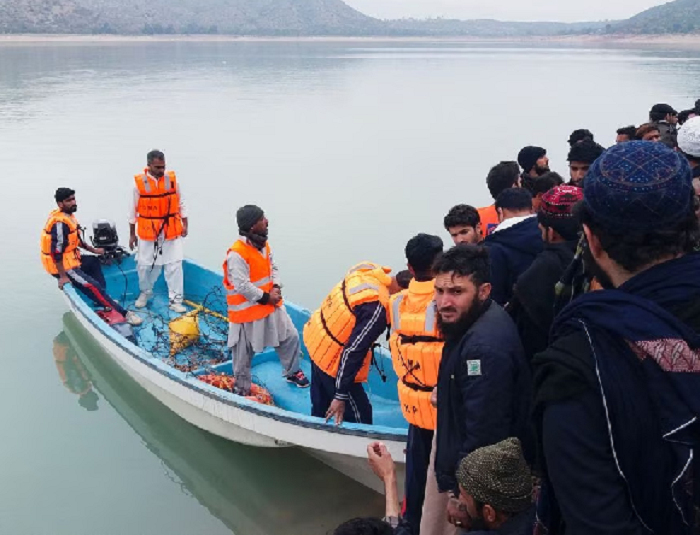 ---
The death toll from a boat incident in Khyber-Pakhtunkhwa's Kohat district rose to 30 as rescuers recovered 19 more bodies on Monday.
The boat carrying over 30 passengers, including madrassa students, capsized in Kohat's Tanda Dam on Sunday.
A search operation is still underway to recover the remaining victims, including the boatman.
Over 50 students of a seminary in village Mir Badshah Khel had reportedly come to the dam for a picnic.
On the first trip, the boat successfully transported 15 students to the other side of the dam.
However, the overloaded boat capsized in the middle of the dam the second time when it was carrying over 30 passengers.
Also read: 11 seminary pupils die in Kohat boat mishap
Kohat Regional Police Officer Dar Ali Khattak, District Police Officer Abdul Rauf Babar Qaisarani, and army personnel reached the scene as soon as news of the tragedy reached them.
Officials had said the rescue teams were able to fish out 17 the students, but 10 of them, aged between eight and 24 years, were unable to survive.
According to Rescue 1122 spokesperson Bilal Faizi, seven ambulances, four boats, two recovery vehicles and more than 40 personnel of his organisation participated in the search operation.
The students who perished in the unfortunate incident included Irshad, Aziz, Salman, Ahmad, Majid, Abu Bakar, Waqas, Harris, Wahid and Naushed. Their bodies were sent to their hometowns after legal medical formalities were completed.
To assist the army divers in finding the remaining eight students and the ferryman, teams were summoned from Kohat and Peshawar.
Kohat Deputy Commissioner Mahmood Aslam said venturing into the dam was closed by the authorities for recreational trips.
COMMENTS
Comments are moderated and generally will be posted if they are on-topic and not abusive.
For more information, please see our Comments FAQ