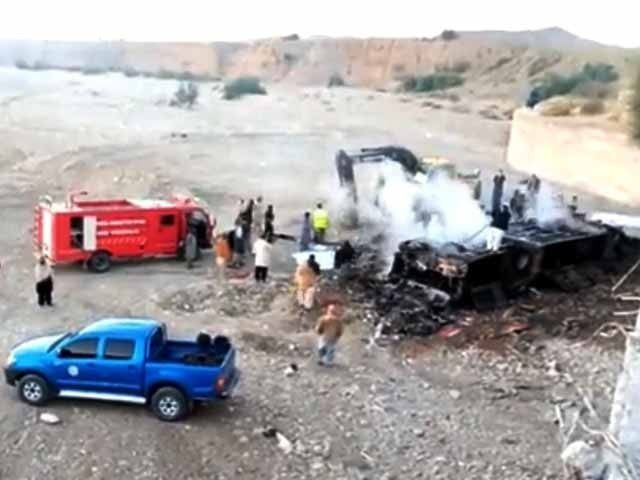 ---
QUETTA:
A case was registered on Monday against the owners of the bus that crashed and caught fire in Balochistan Lasbela district, killing over 40 passengers a day earlier.
The case was registered in Bela police station under the complaint of the SHO, as an incident of attempted murder, negligence, duress, irresponsible driving and endangering life.
Read 'Quality ignored in WB-funded road carpeting project'
Bus owners Zahoor, Manzoor Ahmed and the deceased driver Salim have been named in the case.
According to the text of the first information report (FIR), the bus owners instructed the driver to dispatch the vehicle despite it having technical faults.
It added that the said bus had already been banned from running due to over-speeding.
A passenger told the police that the bus stumbled repeatedly during the journey, adding that when the driver was asked to fix the vehicle, he said that the owner instructed him to continue the journey.
The crash
On Sunday, at least 41 people died and many were injured after a bus fell into a ravine and burst into flames near the Bela area of Balochistan.
The bus, carrying around 48 people, was on its way from Quetta to Karachi when it hit a pillar on the bridge and careened off course. Due to the fire, it was difficult to evacuate the passengers from the bus, causing the casualties to increase.
Assistant Commissioner (AC) Lasbela Hamza Anjum told The Express Tribune that rescue workers recovered 41 dead bodies from the wreckage, some burned beyond recognition.
Read More At least 17 killed, 90 injured in Peshawar Police Line mosque blast
The bodies of 38 people who died in the accident were shifted to Jinnah Hospital Karachi, where their DNA tests will be conducted for identification while the administration handed over three bodies after they were identified by relatives.
Head of the local rescue service Asghar Ramazan told AFP the bus had been loaded with containers of oil. "When the bus fell down, it immediately caught fire," he said. The oil "caused the fire to flare up so much that it was difficult to control", he added.
"It is feared that the driver may have fallen asleep," Anjum said, or maybe he had been speeding during the long-distance trip. "We will investigate the causes of the accident," he said.
COMMENTS
Comments are moderated and generally will be posted if they are on-topic and not abusive.
For more information, please see our Comments FAQ