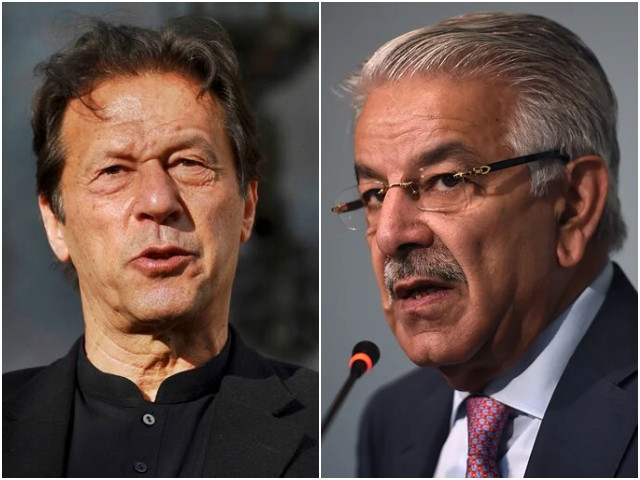 ---
ISLAMABAD:
A sessions court of Islamabad on Saturday imposed a fine of Rs10,000 each on Pakistan Tehreek-e-Insaf (PTI) Chairman Imran Khan and Defence Minister Khawaja Asif for seeking adjournment in the former's defamation suit worth Rs10 billion against the latter.
Noting that the law stipulated that the claim for damages be decided within a period of 90 days, Additional Sessions Judge Umid Baloch bemoaned that the case at hand was lingering for 11 years.
His remarks came after adjournment was requested on the day of cross-examination.
The lawyers' cross-examination of Imran was thus postponed till February 11.
During the hearing, Asif's lawyer Haider Rasool and his associate pleaded for the postponement of the hearing, saying that the defendant's lawyer's niece was getting married.
Meanwhile, the former prime minister did not appear in the court through video-link either and due to the non-availability of Asif's lawyer, his cross-examination could not be completed.
Imran's lawyers did not oppose the request to adjourn the hearing either.
The judge noted that the case had been going on for 11 years, and they were requesting adjournment on the day of cross-examination. He highlighted that the former chief justice of the Islamabad High Court (IHC) also wrote in his judgment that both sides are responsible for the delay.
The law requires that a claim for damages be decided within 90 days, he pointed out.
The judge said, "I will adjourn the hearing to the date of your choice by imposing a compensation of Rs. 20,000."
The lawyers said that according to the law, a fine of up to Rs5,000 can be imposed on the request for adjournment.
They requested the court to give them one last chance instead of imposing a fine.
The lawyers assured that Imran would also be available for cross-examination on February 11 via video link.
The court imposed a fine of Rs10,000 each on Imran and Asif and told their lawyers that if they objected to his decision, they should challenge the order.
Later, the hearing was adjourned till February 11.
COMMENTS
Comments are moderated and generally will be posted if they are on-topic and not abusive.
For more information, please see our Comments FAQ