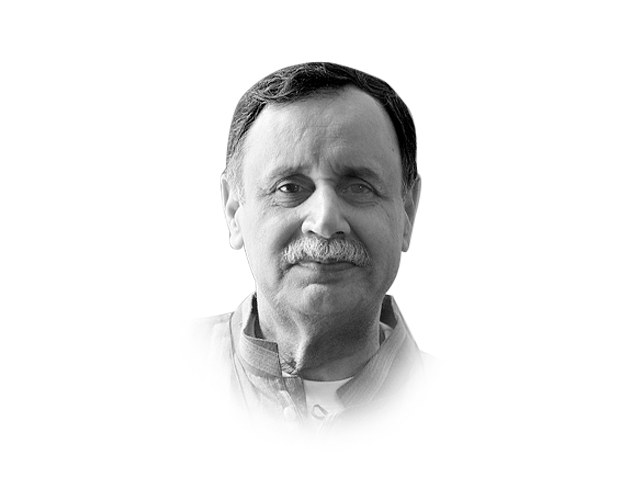 ---
Pakistan has not run out of dollars. It has run out of ideas, imagination, consensus and common sense. Limitless options and opportunities await Pakistan to rise from its deep slumber. Numerous immediate measures could be listed to save energy and stop imports that we can live without. Import of fuel — which makes the biggest chunk of imports — can be significantly reduced by numerous fuel-saving measures. Withdraw all 150,000 government vehicles from every government official. Retain only about 5% of these cars in central car pools in each department — to be used only when specifically requisitioned for a specific official task. If the entire civilised world can follow this principle, why not a nation on the brink of default! Completely eliminate all fuel entitlements — ranging between 60 and 600 liters per month — for all federal and provincial ministers, parliamentarians, judges and civil and military officials.
Numerous other energy conservation measures can be initiated. Close all markets at 6pm. Withdraw all air conditioners and TV sets from government offices. This could save electricity, time and energy bills worth Rs10 billion per year. A four-day work week could bring additional 15% saving on all government utility expenses. Vehicles above 1000cc should pay a toll tax at a rate proportional to the size of the car. This can be easily done by installing cameras on main roads and intersections that recognise the QR code of each passing vehicle and transmit the information for automatic invoice generation.
Around 15,000 Afghan nationals cross from Pakistan to Afghanistan every day. Each person is legally allowed to carry $1000. Considering that many manage to smuggle far more than the authorised quota, Pakistan conveniently ends up losing $15-30 million each day. Pakistan could save this amount by eliminating dollar authorisation and permitting Afghan citizens to carry back Afghan or Pakistan currency only. Closing down all commercial money exchange outlets, permitting exchange and transfer of forex through banks only, curtailing the authorisation for Pakistanis travelling abroad to $2000 and creating incentive schemes for efficient money transfer through banking channels instead of hundi could significantly increase availability of the dollars in Pakistan.
A sane government would launch and encourage numerous import substitution programmes. The annual import of $4 billion worth of palm oil could be completely eliminated and replaced by numerous home-grown cooking oils such as sunflower oil, mustard oil, soya bean oil, rice bran oil, canola oil, corn oil, mustard oil, cotton seed oil, sesame oil, etc. Pakistani markets are flooded with Chinese home-use electrical equipment such as electric heaters, kettles, toasters, tools, drill machines, etc. Most of these items can be locally manufactured. Stopping this import will not just save a large amount of forex but also boost the local industry. Import of coal worth $4-5 billion every year to run the Port Qasim, Hub and Sahiwal power plants can be largely substituted by local Thar coal, resulting in a saving of $2-3 billion every year. Pakistan imports over 2 million tons of hot rolled steel coil every year. We have both people and technology to manufacture this product locally and save over $150 per ton. That translates to a saving of $300 million per year on just one product. Shortage of imagination and excess of bureaucracy hold back our progress and prosperity.
Pakistan could be a rich country if it stops pampering its already pampered rich class. A train load of 76 Ministers, Advisors, Ministers of State and Special Assistants betrays sanity and makes Pakistan poorer by Rs380 million every month. One of the first austerity measures ought to be to slash these free-loaders to less than 15. The practice of giving camouflaged salaries to government officials by adding a dozen type of nebulous allowances that are six to seven times the basic salary must be stopped forthwith. It is proposed that all types of allowances and entitlements be abolished for all government officials, and each individual must receive only a flat and transparent salary, with no hidden perks.
Austerity would be welcomed by all only if initiated from the top. If Pakistan is really sinking, as no doubt it is, then the salary of any government official — civil, military or judicial — must not exceed Rs400,000. Likewise pensions must be capped at Rs150,000, with absolutely no other facilities or entitlements. Any attempts at reducing expenses would remain incomplete unless all government organisations, including the armed forces, are tasked to adopt exceptional austerity measures, cut down ceremonial and non-operational expenses and voluntarily bring at least 10% reduction in their budgets.
Pakistan has failed to realise and capitalise its tax collection potential. Only 1.4% people file tax returns, of which one-third declare a zero tax liability. This is a disaster beyond words. In 75 years, FBR has not been able to design a simple half-page income tax form that could be filled by every citizen without paying Rs20,000 to a tax lawyer. This simple step, beyond the comprehension of FBR, could bring as many as 10% people within the tax net. Tax on agriculture, wealth, inherited or gifted property and deemed income from immovable property be immediately executed across the board.
Doubling the taxes on cigarettes, soft drinks, energy drinks and sweetened drinks could easily fetch an extra Rs200 billion.'Non-filer', a uniquely ridiculous concept that promotes a culture of tax avoidance, ought to be completely eliminated. Purchase of property, car registration, foreign travel, electricity bills beyond Rs10,000 per month, sending money abroad or transactions beyond Rs50,000 ought to be prohibited if an individual is a 'non-filer'.
Imagine the recklessness of a government whose annual expenditure for running its civilian federal government is Rs480 billion, but provides Rs700 billion as subsidies to its already pampered corporate sector. This must end. Pakistan needs to raise the cost of piped gas to its true value i.e. Rs1,000/mmbtu instead of artificially keeping it at Rs650/mmbtu and putting both Sui Southern and Sui Northern under a financial debt of over Rs1,500 billion. Every sale and purchase of property ought to be taxed at the rate of 5%, and at its correct market value. A board comprising reps from government, Union Councils, estate agents, architects and citizens in each registrar's jurisdiction should verify and sign for the correct market value of the property. Implementing these measures could lift Pakistan out of this self-created crunch and crisis within six months. What is holding back Pakistan from its rapid rise and revival is nothing but the ineptness and insincerity of its own ruling elite.
COMMENTS
Comments are moderated and generally will be posted if they are on-topic and not abusive.
For more information, please see our Comments FAQ