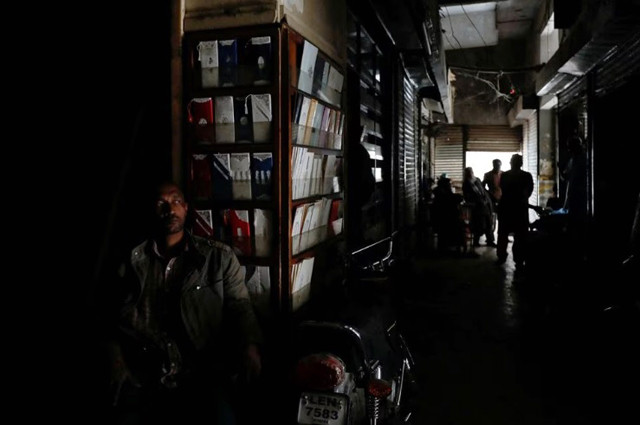 ---
KARACHI:
The day-long power failure on Monday has once again exposed the poor performance and incapacity of K-Electric to provide electricity to consumers across the city.
As soon as the supply from the national grid was suspended, the electricity system in Karachi was completely disrupted after which life in the city came to a standstill.
A water crisis also erupted in the city as pumping stations halted operations during a power failure.
Business, trade and daily activities were badly affected while work in the industrial areas of the city also came to a halt.
The situation also hit the millions of people working on daily wages basis.
Fearless street criminals took advantage of the darkness and robbed citizens.
Traffic jams were the worst as no traffic lights were functioning on major roads.
K-Electric has completely failed to restore electricity in the city through its power plant.
As soon as the electricity from the National Grid was suspended, the 71 grid stations of K-Electric came to zero generation, due to which the entire system was disrupted.
K-Electric was able to restore power supply in a few areas in the megacity after 14 hours.
Most of the city was still without power until late in the night.
Earlier on Monday morning, power supply was suspended in all areas of the city at 7:45am.
After 2pm, electricity was restored in some areas, but it was again shut off after 30 to 40 minutes.
Power was partially restored in 25 to 30 per cent of the areas till late at night.
A spokesperson for K-Electric said that the power company is in continuous touch with the NTDC authorities to restore power from the national grid, and as soon as the supply from the national grid is restored, the power supply in the city will return to normal.
The spokesperson said that it may take 24 hours to fully restore power in the city.
In the recent past, such a situation happened in which the electricity returned to normal after 24 to 48 hours.
Sources say that once again it has been proved that the electricity is dependent on the national grid and has no system of its own due to which the country's largest city remained without power for longer period.
COMMENTS
Comments are moderated and generally will be posted if they are on-topic and not abusive.
For more information, please see our Comments FAQ