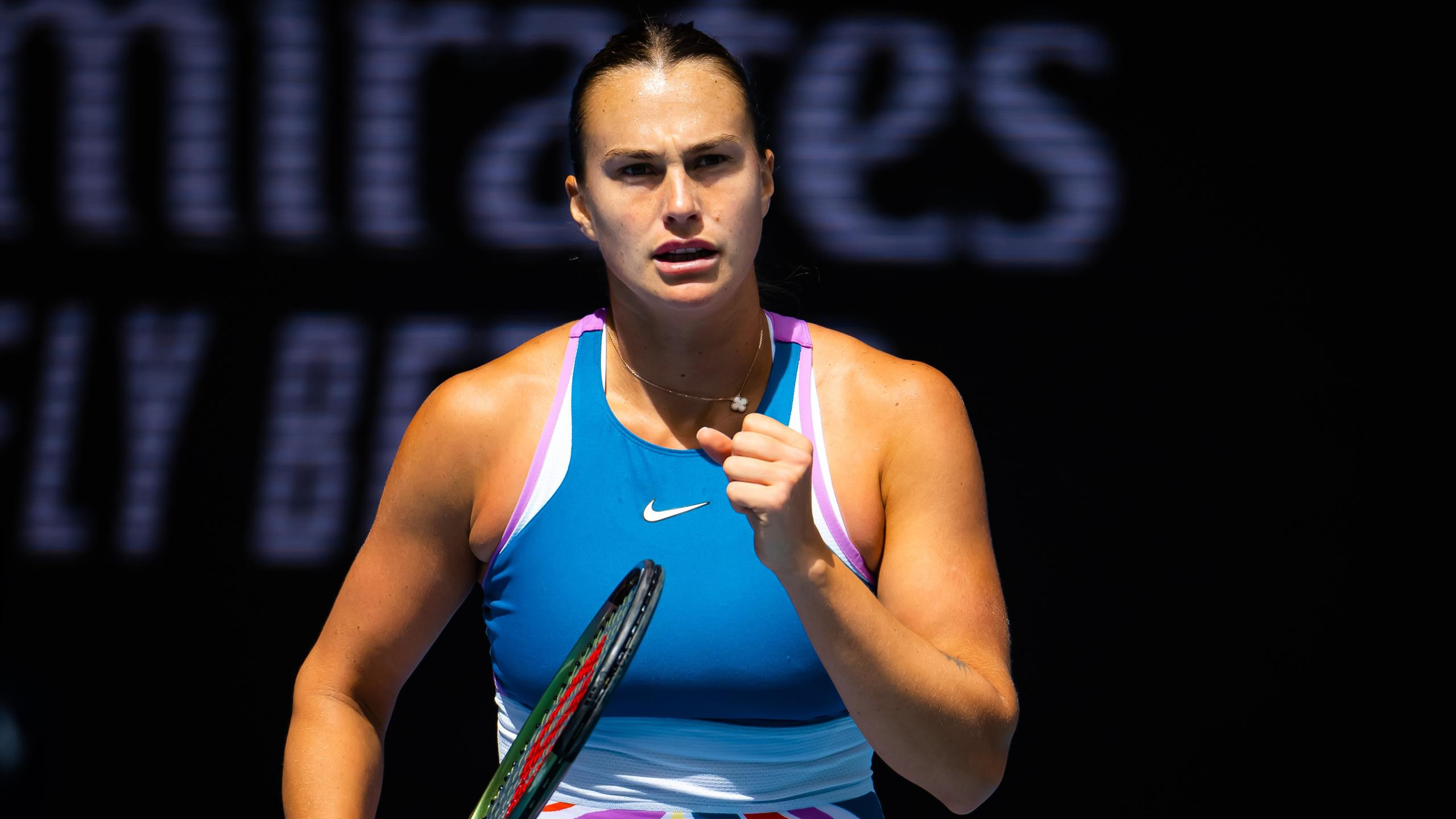 ---
MELBOURNE:
Fifth seed Aryna Sabalenka marched into the last 16 of the Australian Open on Saturday and then declared she would have to "stay low like a tiger" to beat in-form Belinda Bencic.
The Belarusian mauled 32nd-ranked Belgian Elise Mertens 6-2, 6-3 on Margaret Court Arena to burgeon her status as a favourite for the first Grand Slam of the year.
Bencic, of Switzerland, was just as dominant in her 6-2, 7-5 victory over Italy's Camila Giorgi on Rod Laver Arena.
Sabalenka described how she would try to cope with hard-hitting Bencic and her big serve.
"I feel like I have to stay really aggressive in the first few shots and then the slower ball or shorter ball will come," Sabalenka told reporters at Melbourne Park.
"It's all about fast feet on the first few shots. I have to be like a tiger, ready, stay low and be ready for that."
Sabalenka needed just 74 minutes to beat her former doubles partner Mertens – the pair won five titles together including the Australian Open in 2021 – but said it hadn't been as easy as it looked.
"It's really tough to play against her, especially. She's a great player, unbelievable fighter," said the powerful Sabalenka, who is yet to win a major.
"I knew it's going to be tough. I'm super happy that I was able to stay focused from beginning to the end to win this match because she's an amazing player."
Sabalenka, who has admitted to suffering from big-match jitters in the past, said she had to stay focused as expectation grows that she could win a maiden Grand Slam title in Melbourne.
"Before, in the second week, I remember I was getting nervous. I was overthinking, overdreaming," she admitted.
"I was too emotional on court. I really believe if I'm going to stay the same calm mindset on court, I really believe that I can get it."
Sabalenka and Olympic champion Bencic are both on a roll this year in Australia.
They each won titles in Adelaide earlier this month, both are yet to drop a set in Melbourne and both are now on seven-match unbeaten runs.
Something will have to give when they clash on Monday for a place in the quarter-finals.
"Sabalenka is a very aggressive player, has a lot of power," said Bencic, who is aiming to become only the second Swiss woman to win the Australian Open after Martina Hingis, the 1997, 1998 and 1999 champion.
Bencic, who last week returned to the world's top 10 for the first time since 2021, has Sabalenka's former coach Dmitry Tursunov in her corner for the fourth-round encounter.
"Dmitry was her coach before, so he can help me a lot. I hope so," said Bencic.
COMMENTS
Comments are moderated and generally will be posted if they are on-topic and not abusive.
For more information, please see our Comments FAQ