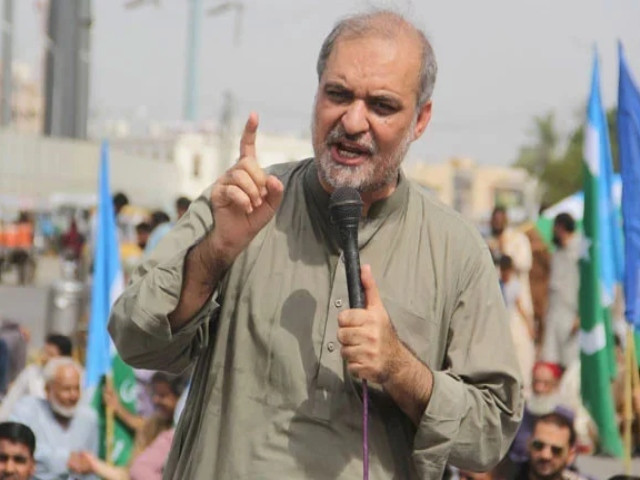 ---
KARACHI:
Jamaat-e-Islami (JI) Karachi chapter chief Hafiz Naeemur Rehman said on Thursday that the next mayor of Karachi would be from the party, adding that "matters can move forward" if PPP and JI accept each other's mandate.
He expressed these remarks following a meeting with Pakistan People's Party (PPP) delegation which included Saeed Ghani, Najmi Alam, Imtiaz Shaikh and others.
Both parties discussed a possible agreement to elect the mayor of Karachi. JI apprised PPP of its concerns about the LG polls in the city, with the PPP assuring JI that its concerns would be addressed.
In a press conference at Noor-e-Haq Institution in the metropolis flanked by PPP leaders after the meeting, Rehman said that four days had passed since the local government elections were conducted but the matter of results was still not over.
He alleged that returning officers (RO) were appointed by certain parties to achieve desired results and that the "ROs were making rigging attempts."
Rehman further said that the LG polls were held after two and a half years after being postponed four times, adding that uncertainty was used to restrict people from voting
Read In major setback, PTI's nominee for Karachi mayor slot loses to PPP
The JI leader maintained that after so many efforts, the election that took place was also prone to problems and that the "government does not want to give power to the people".
Rehman stated that the party's first demand is to order vote bags from the ROs for seats whose cases are being heard in the Election Commission of Pakistan (ECP).
He said that calling for the recounting of votes is a right of any party but alleged that the PPP will take "advantage of this to increase their numbers". He demanded a stop to recounting and maintained that the recount should be done before the ECP.
"We have taken more than double votes than the PPP, so how can they have a majority?" questioned the JI leader.
Read More Karachi LG polls: JI cries foul over results delay
Without giving any details, Rehman stated that shots were fired at JI workers at the District Registration Office (DRO) in Malir a day earlier.
He also condemned clashes between the ruling PPP and Pakistan Tehreek-e-Insaf (PTI) workers outside the deputy commissioner's office in Karachi's Keamari.
Meanwhile, while congratulating JI for its success in the polls, Sindh Labour and Human Resources Minister Saeed Ghani said that the delegation came after instructions from Sindh Chief Minister Syed Murad Ali Shah.
"It is a good opportunity for local bodies that two mature parties want to fix the problems of this city," he added.
The PPP leader said that polls were supervised by Election Commission of Pakistan and the government was not directly involved in many matters. However, he assured that JI's concerns would be addressed and Sindh government would play its role as much as possible.
Ghani said that they would not create hurdles if JI decides to take a legal course of action against the result of any UC, adding that the PPP would accept the ECP's decision.
The develpments come a day after Ghani had said that the PPP was willing to work together with JI to settle on a "formula" for deciding the coveted seat of Karachi's mayor.
While the PPP emerged as the major gainer in the second round of local bodies elections in Sindh, in Karachi, no party emerged clear winner to elect the next mayor of the metropolis, according to the results released by the electoral watchdog.
COMMENTS
Comments are moderated and generally will be posted if they are on-topic and not abusive.
For more information, please see our Comments FAQ