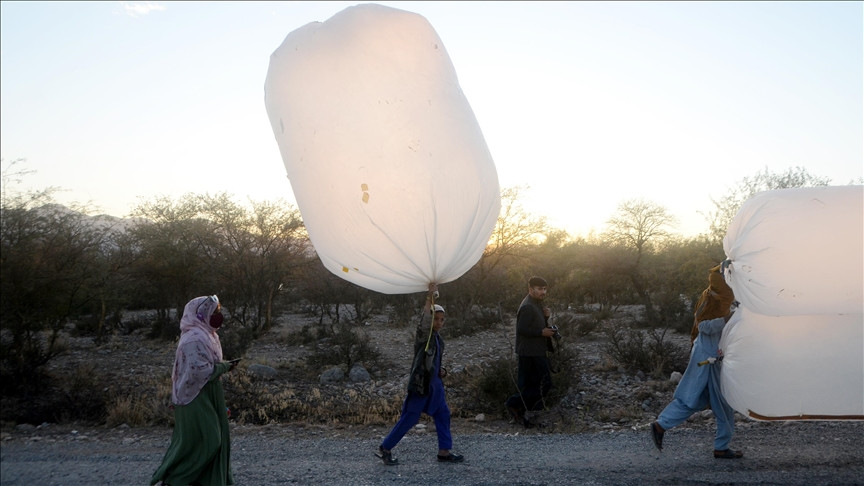 ---
KARAK:
People in Karak district, Khyber Pakhtunkhwa have to put their lives at risk just to use natural gas to cook food at home.
It is pertinent to note that Karak district in the Khyber Pakhtunkhwa province is known for its rich resources of natural gas and oil, but the government has yet to develop any proper infrastructure system to supply gas to local residents and surrounding areas.
People have developed ad hoc methods such as extracting gas from a main supply line with a hose – instead of proper drilling – and then filling plastic bags like helium balloons to transport them from the field for use in home cooking.
"We're carrying gas in these plastic bags even though all of us are aware of the dangers of this method," Hazrat Janan, a resident stated.
In the town of Banda Daud Shah, natural gas was discovered years ago but the government has not developed any system to provide gas to the surrounding region, thus forcing residents to use a risky method and put their lives in danger.
The residents have make a hole in the main line and put in a pipe and taking it some distance from where they fill the plastic bags themselves.
Also read: China reports huge rise in Covid-related deaths after data criticism
The residents don't measure the gas by cubic meters but with a plastic bag, filling locally made bags from here and there.
At first glance, outsiders who see these balloons might imagine them to be children's entertainment balloons but in reality they are huge bags full of fuel for people to cook their dinner.
"We use this gas with a pump connected to the stove, putting the bags next to the fire while cooking," said Janan.
He added that there have been many accidents with this volatile gas in which people got wounded or even died.
"In one incident here in our village one person died and two women suffered burns.
"We have our own natural gas but we can't use it safely," he lamented.
The natural gas is put into the bags through a small valve inserted into the mouth of the bags to prevent leakage.
The other end of the bags is tied to a stone on the ground so they don't take off like a helium balloon.
A bag fills up in 20-25 minutes on average. An electric pump of 2,000 rupees is sufficient to use the "bag gas" in their homes. Through this pump, they can cook food from bag gas in home stoves.
One bag of gas is enough for two to three hours of consumption.
"We requested the government develop proper gas infrastructure in our area and protect our lives," Janan said.
Suhana Khattak, another resident of Karak, says we know using these balloons is like putting explosives in their kitchens but there's no other way to do it in a homemade way.
"Men and women are bringing home these gas bags, but sometimes we're even sending children to bring gas home in these plastic bags," she said.
She added that this is not safe and that people doing it fear that accidents could happen but again there is no other option right now.
"We're using this gas just to make tea and bread," Suhana said.
COMMENTS
Comments are moderated and generally will be posted if they are on-topic and not abusive.
For more information, please see our Comments FAQ