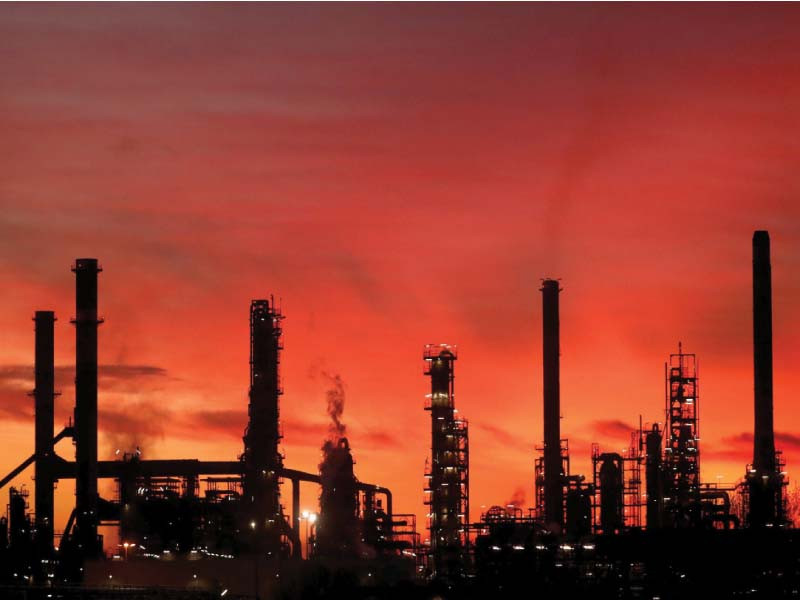 ---
ISLAMABAD:
Pakistan is facing a looming oil crisis as banks have refused to open and confirm Letters of Credit (LCs) for the import of petroleum products.
The Oil Companies Advisory Council (OCAC), a grouping of refineries and oil marketing companies (OMCs), has drawn attention of the finance secretary and the State Bank of Pakistan (SBP) towards the emerging situation.
In a letter to the finance secretary, OCAC pointed to the challenges being faced by oil companies, which were finding it difficult to open LCs.
"If LCs are not established on a timely basis, critical imports of petroleum products will be impacted, which may lead to fuel shortage in the country," the council said, adding that if the supply chain was compromised, it might take six to eight weeks until the situation normalised.
To bridge energy deficit and meet consumer demand, Pakistan imports around 430,000 tons of mogas (petrol), 200,000 tons of high-speed diesel and 650,000 tons of crude oil every month at a cost of around $1.3 billion.
"These imports require the opening of LCs, however, the industry is facing severe challenges of opening and confirmation of the LCs, which has caused delay in multiple cargoes and a few cancellations as well," OCAC said.
Despite the challenges, it emphasised, the industry, under the supervision of the Oil and Gas Regulatory Authority (Ogra) and the Ministry of Energy (Petroleum Division), had been able to ensure fuel supplies across Pakistan. However, the situation has deteriorated in the current month as banks are declining LC opening requests.
"In order to avoid any disruption, urgent intervention is required for streamlining the process and ensuring timely establishment of LCs for the import of petroleum products," OCAC added.
Separately, Hascol Petroleum, in a letter to the SBP governor, revealed that the company was facing problems in opening LCs and entering into import contracts for petroleum products.
"Imports of petroleum products require a definitive financial instrument (in the form of import contracts/ confirmed LCs), as per requisite banking regulations, however, delays in opening import contracts/ confirmed LCs and FX remittances, despite the availability of LC lines, are hampering the oil supply chain, leading to supply disruptions in the country, particularly at our retail network," the CEO of Hascol said in the letter.
Furthermore, the unavailability of import contracts and LCs is sending negative signals to the international oil suppliers, leading to forced cancellation of oil cargoes.
The company pointed out that the situation had turned worse in the first week of January when banks were denying requests for new contracts and LCs, which would lead to critical oil shortages at retail stations in the coming weeks.
Hascol has come a long way since the last couple of years and is continuously improving its supply chain to improve product availability at retail networks and is concurrently working with lenders to restructure its outstanding debt.
"We are also cognizant of the economic challenges being faced by the country and the consequent FX liquidity risk mitigation measures being taken by the banking sector, however, we request your urgent intervention that our banks are instructed to open requisite import contracts/ confirmed LCs in order to ensure business continuity," Hascol maintained.
Attock Petroleum Limited (APL), the second largest OMC in Pakistan, has also found itself in a similar situation.
"We take pride that in order to meet fueling requirements of the country, APL has always remained on the forefront and has played a critical role in ensuring uninterrupted fuel supplies to the nation at all times. Needless to say, APL has always fulfilled all financial, contractual, social obligations and has significant contribution in Pakistan's economy," the company told OCAC.
"Considering the production and supply deficit, APL regularly imports mogas to bridge the demand and supply gap. However, as a matter of profound concern, local banks have regretted to establish our oil import LCs based on the plea that the State Bank has instructed to do rationing on their LCs' establishment based on the foreign reserves situation and expected inflows and they are not in a position to facilitate any new LCs due to their low foreign reserves."
Moreover, APL said, only a few local banks, which had given somewhat positive response on LCs' facilitation, were unable to arrange confirmation of the LCs due to the declining of confirmation requests by foreign banks – the reason being their curtailed and choked credit limits on account of downgrading of Pakistan's credit rating and the associated risks.
"It is imperative to highlight that LCs' non-availability for the import of petroleum products will put enormous pressure on the country's fuel supply chain and it will certainly lead towards fuel crisis and dry-outs at retail stations. This will eventually lead to aggravating the economic crisis," APL said, urging OCAC to take up the matter with authorities to avoid the imminent fuel crisis.
Published in The Express Tribune, January 14th, 2023.
Like Business on Facebook, follow @TribuneBiz on Twitter to stay informed and join in the conversation.
COMMENTS
Comments are moderated and generally will be posted if they are on-topic and not abusive.
For more information, please see our Comments FAQ