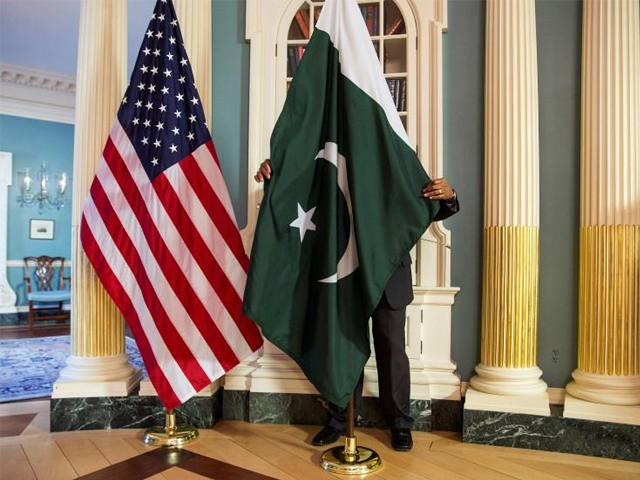 ---
ISLAMABAD:
Pakistan on Friday said it would welcome facilitation by the United States to break the stalemate with India on the longstanding Kashmir dispute.
"Regarding the Pakistan–India relations and the facilitation by third parties, including the United States, Pakistan has always said that we would welcome the international community to play their role in promoting peace in the region including in facilitating dialogue and resolution of the core dispute between Pakistan and India i.e. the Jammu and Kashmir dispute," Foreign Office Spokesperson Mumtaz Zahra Baloch told reporters at weekly briefing in Islamabad.
She was responding to a question about the recent statement made by Pakistan's Ambassador to the US Masood Khan, who spoke about the possible role by the US on the resolution of Kashmir dispute.
Washington in the past did play a role to ease tensions between the two nuclear-armed neighbours. The 2003 ceasefire understanding was brokered by the then Bush administration in order to allow Musharraf regime to focus on the war on terror.
Of late, however, the US follows a more cautious approach and avoids getting involved directly in the Pakistan-India tensions.
To a question about the possible visit of Indian Prime Minister Narendra Modi in April 2021, the spokesperson said the Foreign Office would not comment on speculative reports.
Meanwhile, at the invitation of president of the World Economic Forum (WEF), Foreign Minister Bilawal Bhutto Zardari will attend the Forum's annual meeting from January 16-20, 2023 in Davos, Switzerland. The foreign minister will be accompanied by Minister of State for Foreign Affairs Hina Rabbani Khar.
Also read: India objects to US diplomat's visit to AJK
The foreign minister and the minister of state will participate in a number of WEF events on contemporary global and regional issues. The World Economic Forum annually brings together political and business leaders to identify pathways to overcome economic, social, and environmental challenges. This year's Forum is being organised under the theme, "Cooperation in a Fragmented World".
FM Bilawal will share Pakistan's perspective on economic and social impact of the evolving geopolitical realities, and challenges for the region's security and stability. He will highlight the developing world's perspective on issues of climate change, food and energy security, and social vulnerabilities in times of high inflation, and slowing economic activity.
The foreign minister and the minister of state will also meet participating dignitaries including political leaders, corporate executives, heads of international organisations, and leading media and civil society personalities.
COMMENTS
Comments are moderated and generally will be posted if they are on-topic and not abusive.
For more information, please see our Comments FAQ