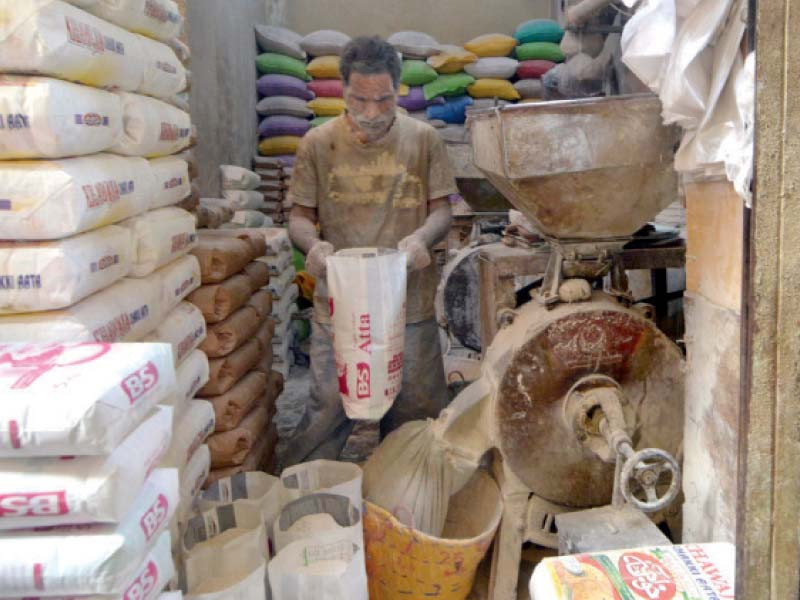 ---
LAHORE:
As the price of wheat touches Rs5,000 per maund in the grain markets, the price of different brands of wheat flour has hit the mark of Rs130 per kilogram while the price of the wholegrain chakki atta has jumped to an all-time high -- Rs145 per kg -- in markets across the provincial capital.
Flour millers are blaming the government for the price hike which they link to reduction in the quantity of wheat released by government warehouses while the chakki owners term shortage of grains and high wheat support price for increase in wheat flour rates in Punjab.
A former chairman of the Pakistan Flour Mills Association (PFMA), Khaleeq Arshad, told The Express Tribune that hardly 21,000 to 22,000 tons of wheat was being supplied by the Punjab Food Department. Supply of wheat by the governments of Sindh, Khyber Pakhtunkhwa and Balochistan provinces were also negligible. The quantity of grains in the market falls way short of the demand for them.
Moreover, he said, the government had delayed the import of wheat despite having complete knowledge of the market situation. Smuggling and black marketing of wheat flour were some other factors responsible for the hike in price of wheat.
Khaleeq Arshad said that besides the internal problems and "mismanagement", the Russia-Ukraine war had also made wheat import difficult. In the past few years, Pakistan had been importing huge quantities of wheat from Ukraine, but due to the war, the supply line had gotten affected, said the former chairman of the PFMA.
In addition to all the other factors, the government hadn't allowed the private sector, which was far more efficient than the government agencies, to import wheat grains, he said. Khaleeq Arshad said the price of wheat flour had touched Rs2,000 for a bag of 15kgs in different markets owing to the shortage of grains.
The former PFMA chairman alleged that all the provincial governments had been limiting the supply of wheat stocks in anticipation of a high demand for the commodity during the holy month of Ramazan, which would fall in March.
Published in The Express Tribune, January 6th, 2023.
COMMENTS
Comments are moderated and generally will be posted if they are on-topic and not abusive.
For more information, please see our Comments FAQ