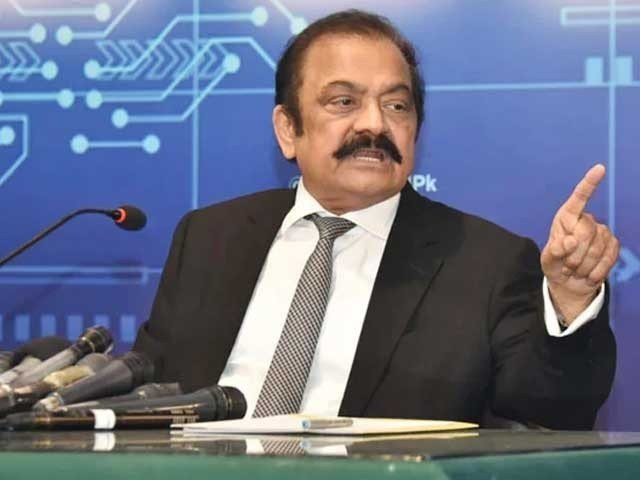 ---
Interior Minister Rana Sanaullah has accused the Pakistan Tehreek-e-Insaf (PTI) of twisting facts surrounding the assassination attempt on its chief Imran Khan in Wazirabad on November 3 last year.
Addressing a press conference in Lahore on Thursday, Sanaullah claimed that the former premier did not receive bullet injuries in the attack and also rubbished his claims that the three shooters were present at the scene.
His statement came a day after PTI leader Fawad Chaudhry said that the JIT constituted to probe the assassination attempt on Imran found that there was a planned attempt to assassinate the former prime minister in the Wazirabad attack.
Sharing the findings of the JIT, Chaudhry, the senior vice president of the PTI, said that by reducing the number of police personnel in Gujrat, an opportunity was provided for the attack and subsequently an assassination attempt was made at the Imran Khan.
"The revelations made in the JIT report will be made public soon, Chaudhry said, while speaking to the media. "A well-thought-out narrative was chalked out to give the assassination attempt the cover of religiously-motivated crime," he added.
Responding to his claims, Sanaullah said only one alleged shooter Naveed was present at the scene who he said is a religious fanatic.
Also read: JIT report points to plot to assassinate Imran: Fawad
He said the Punjab government could implicate other accused in the Wazirabad case.
Speaking about other matters, Sanaullah said that the country was reeling from economic crisis due to the flawed policies of previous Imran-led government.
"He sold all items of Tosha Khana (gift depository), while the country suffered from economic crisis due to Imran Khan's policies. False cases were made against the opponents."
Sanaullah said that Imran Khan's politics is based on anti-nationalism and he will bring to the country if came into power again.
He also emphasised on the need for political stability in order to stabilise the country's economy.
The interior minister also clarified that the government will hold no talks with the any person or outfit involved in terrorism. "The Afghan government will be asked to fulfil its promise of not allowing its territory to be used for terrorism and the same decision has been taken in the national security committee meeting."
COMMENTS
Comments are moderated and generally will be posted if they are on-topic and not abusive.
For more information, please see our Comments FAQ