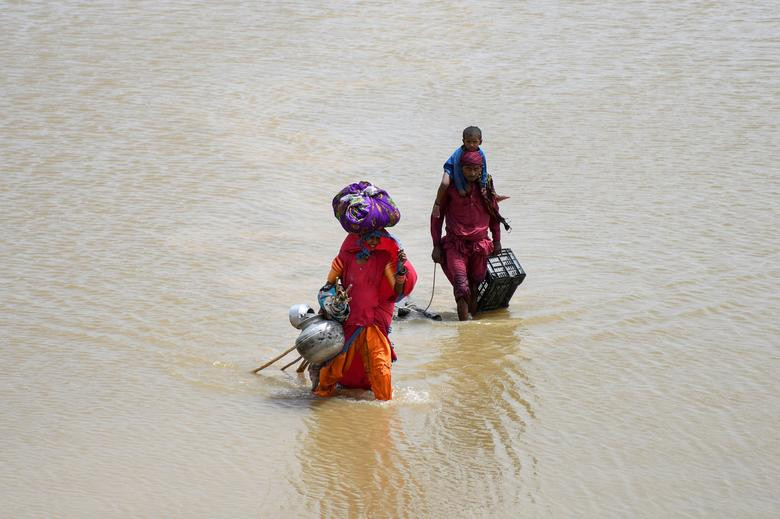 ---
The world witnessed one of the worst climate-induced disasters in 2022, giving terrifying proof that climate change is a reality.
Climate disasters have global impacts and are not only devastating for the communities that experience them as the effects are wide-ranging and nearly half the world's population is considered highly vulnerable to these impacts.
The wide-ranging effects include rising sea levels, more frequent and intense heatwaves, storms, and other extreme weather events.
According to a report by the World Meteorological Organisation (WMO), weather-related disasters have increased five-fold over the last 50 years, killing 115 people each day on average. And this year was lay evidence of it.
Pakistan floods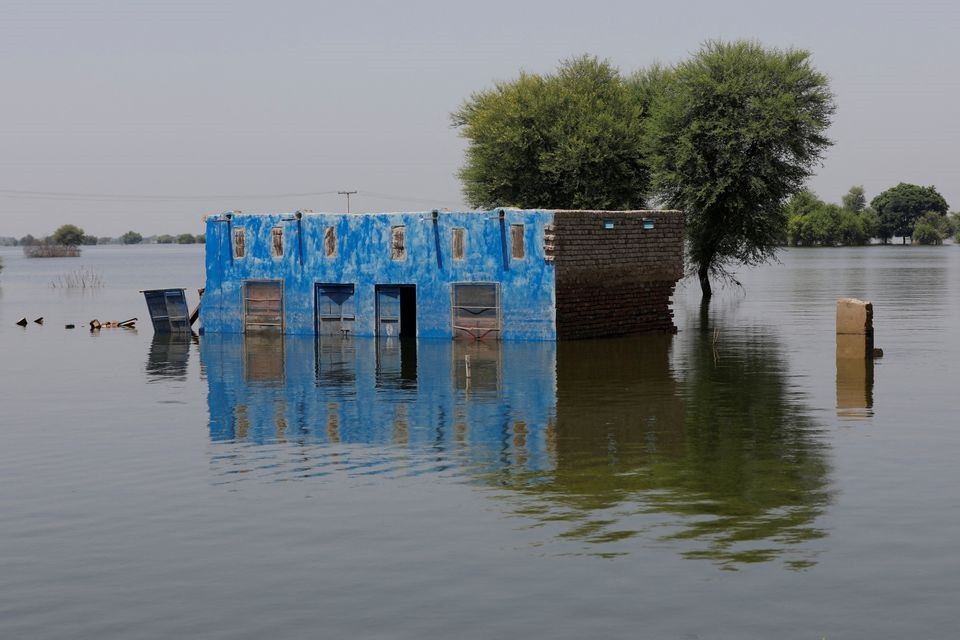 A view shows submerged building amid flood water, following rains and floods during the monsoon season in Talti town in Sehwan, Pakistan September 15, 2022. REUTERS/Akhtar Soomro
Unprecedented floods submerged huge swathes of Pakistan and hundreds of thousands of people were forced to sleep in the open air after the disaster.
Record monsoon rains and glacial melt in northern mountains are believed to be the main reason behind the catastrophic flooding in the country.
The deluge impacted 33 million people out of a population of 220 million, sweeping away homes, vehicles, crops and livestock in damage estimated at $30 billion.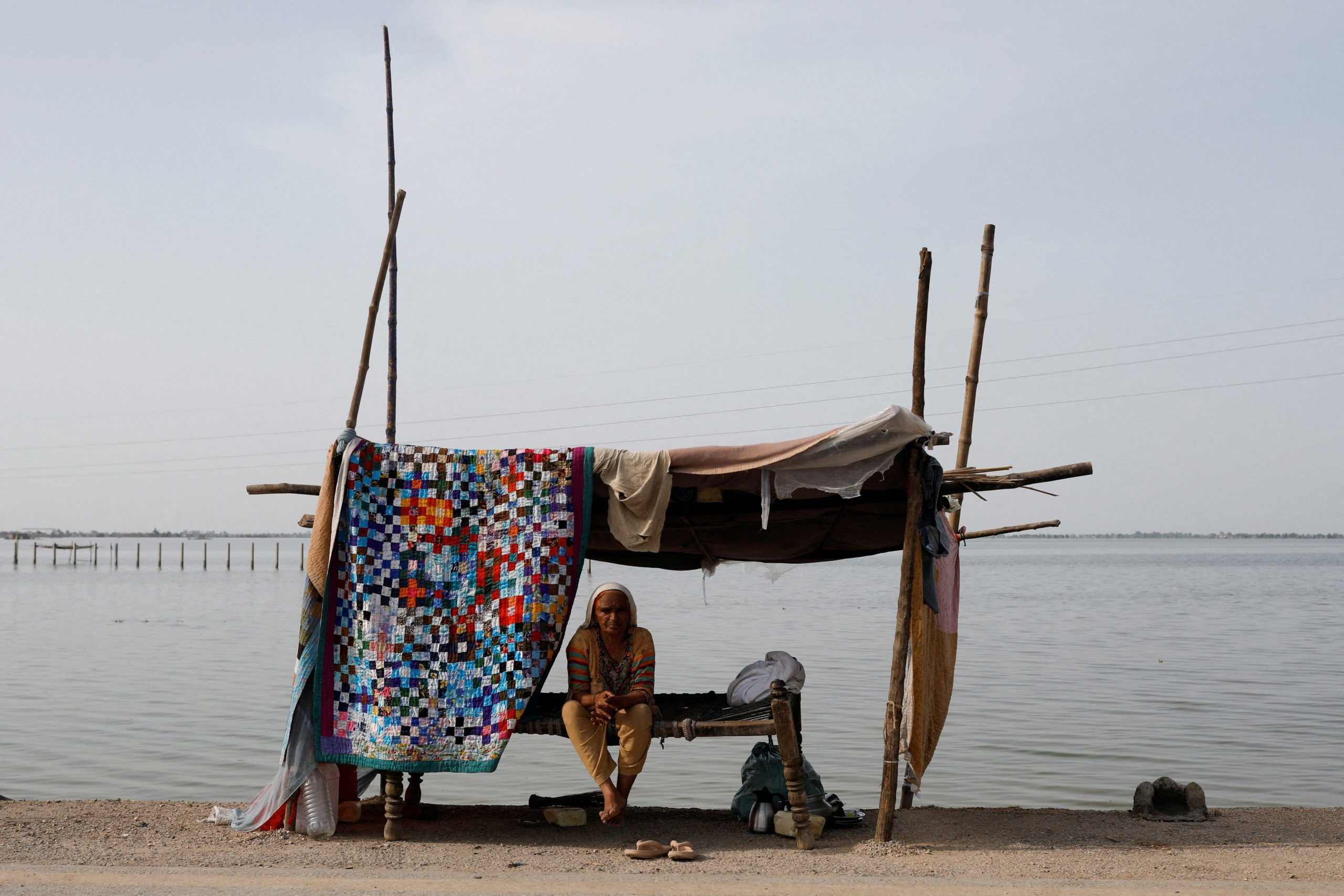 A flood victim takes refuge along a road in a makeshift tent, following rains and floods during the monsoon season in Mehar, Pakistan August 29, 2022. REUTERS/Akhtar Soomro
The government and the United Nations (UN) have blamed climate change for the surging waters in the wake of record-breaking summer temperatures.
Read WMO seeks 'more action' on climate change
The agricultural sector of the country also sustained Rs529 billion in losses during the unprecedented floods that wiped out 40% of the standing crops, while the livestock sector suffered a loss of Rs102 billion, as 1.158 million cattle heads perished.
Hurricane Ian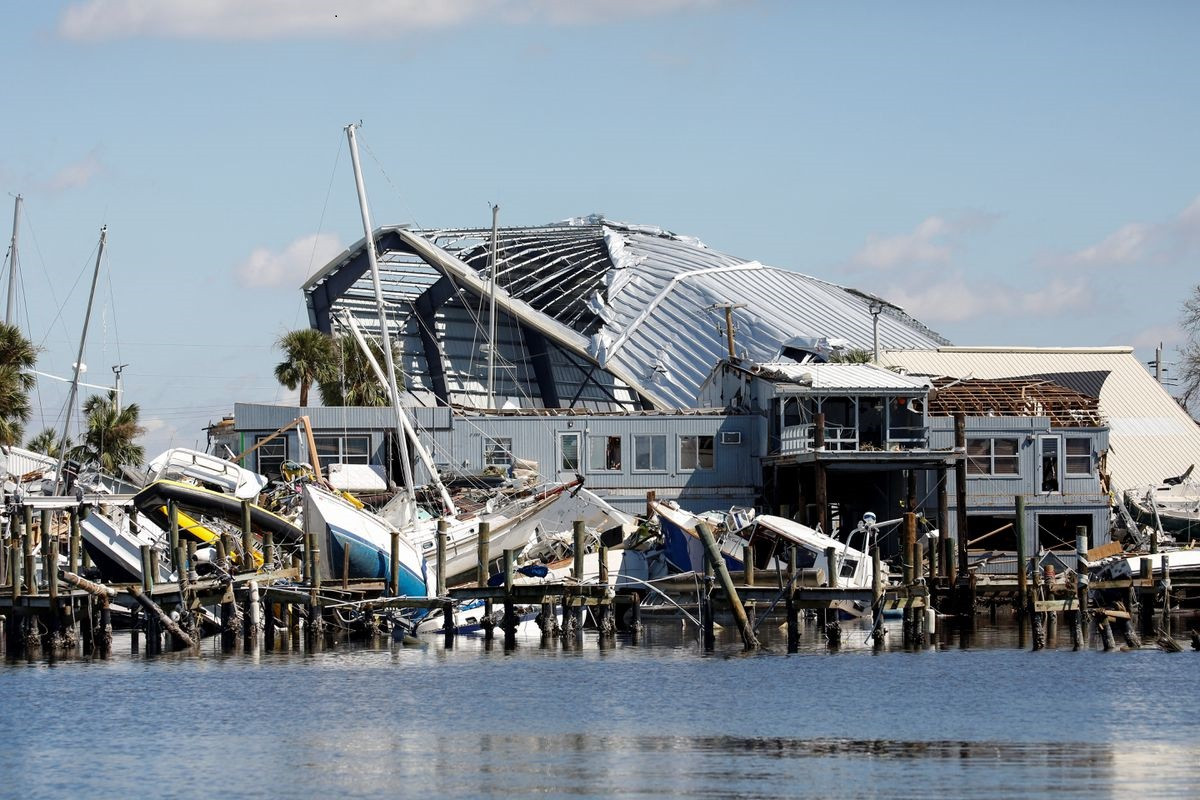 A destroyed marina in the Matanzas Pass is seen after Hurricane Ian caused widespread destruction in Fort Myers Beach, Florida, U.S., October 1, 2022. REUTERS/Marco Bello
Ian, a category-4 hurricane that struck Florida and South Carolina in September, was one of the strongest storms ever to hit the US mainland with more than 100 deaths attributed to the deadly storm.
The hurricane caused an estimated insured loss of $50–65 billion – putting it second only to Hurricane Katrina in 2005.
According to officials, the heaviest damage was inflicted by wind-driven ocean surf that raged into seaside communities and washed buildings away.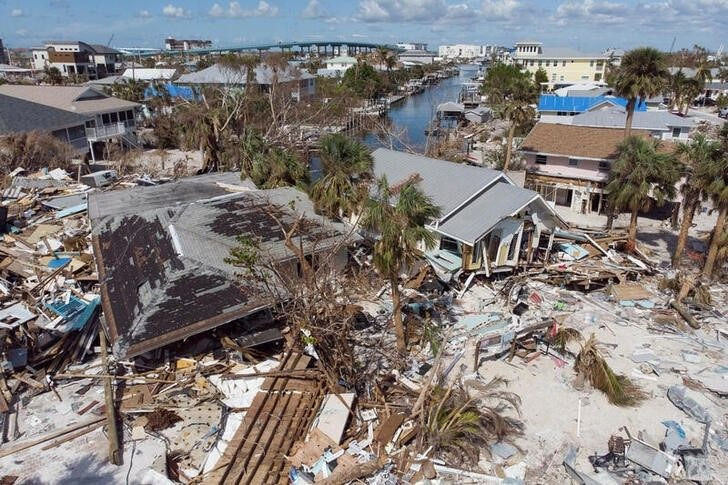 Remains of destroyed houses are seen almost one month after Hurricane Ian landfall, in Fort Myers Beach, Florida, U.S., October 26, 2022. REUTERS/Marco Bello
More than 700,000 businesses and homes remained without power in Florida alone, where more than two million customers lost electricity the first night of the storm.
After waning to a tropical storm by the end of its march across Florida to the Atlantic, Ian regained hurricane strength and pummeled coastal South Carolina.
European heatwave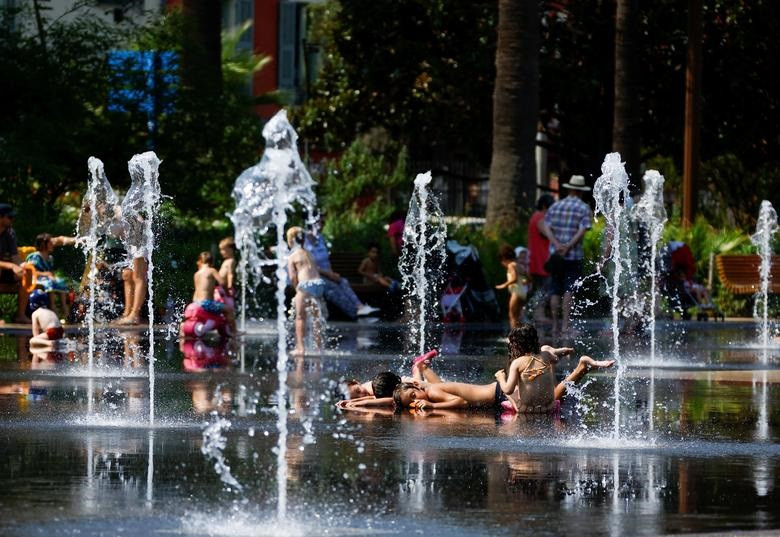 Children cool off in a fountain in Nice as a heat wave hits France, July 18. REUTERS/Eric Gaillard
Temperatures hit nearly 40 degrees Celsius or above throughout Europe, from Paris to London in 2022, as the continent became a "heatwave hotspot".
Climate scientists stated that such high temperatures would have been "virtually impossible" without climate change.
Chloe Brimicombe, a heatwaves researcher, said she considers this year's heatwave to be "the most impactful heatwave since 2003".
A person can die due to high temperatures during heatwaves as it may induce a heatstroke. Moreover, it can also trigger other conditions, such as, a heart attack or breathing problems.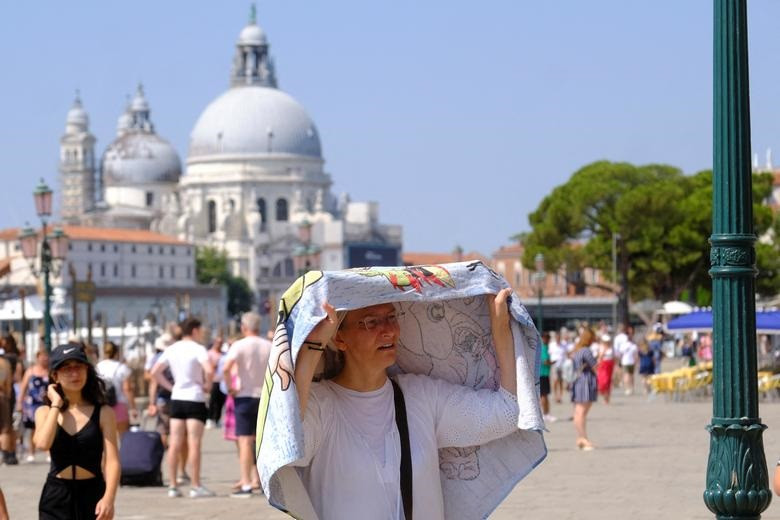 People cool off on a hot day during 'Redentore' festival celebrations as the second heat wave of the summer hits, in Venice, Italy, July 16. REUTERS/Manuel Silvestri
This year's summer heatwave in the European countries reportedly led to more than 20,000 "excess" deaths – with France reporting about half of the summer's excess deaths.
According to a report by the WMO, Europe has warmed more than twice as much as the rest of the world over the past three decades.
Moreover, the number of heatwaves on the continent has increased faster than in other regions due to changes in atmospheric circulation.
Typhoon Nanmadol
A man on a bicycle rides past in the heavy rain and wind caused by Typhoon Nanmadol in Miyazaki on Japan's southernmost main island of Kyushu September 18, 2022, in this photo taken by Kyodo. Mandatory credit Kyodo via REUTERS
Nanmadol, one of the biggest typhoons ever to strike Japan, bore down on the country's southernmost main island of Kyushu in September.
Also Read Call for creation of 'climate change authority'
It brought torrential rain and fierce winds, killing four and leaving tens of thousands of households without power.
Moreover, the typhoon caused blackouts, paralysed ground and air transportation, and the evacuation of thousands of people.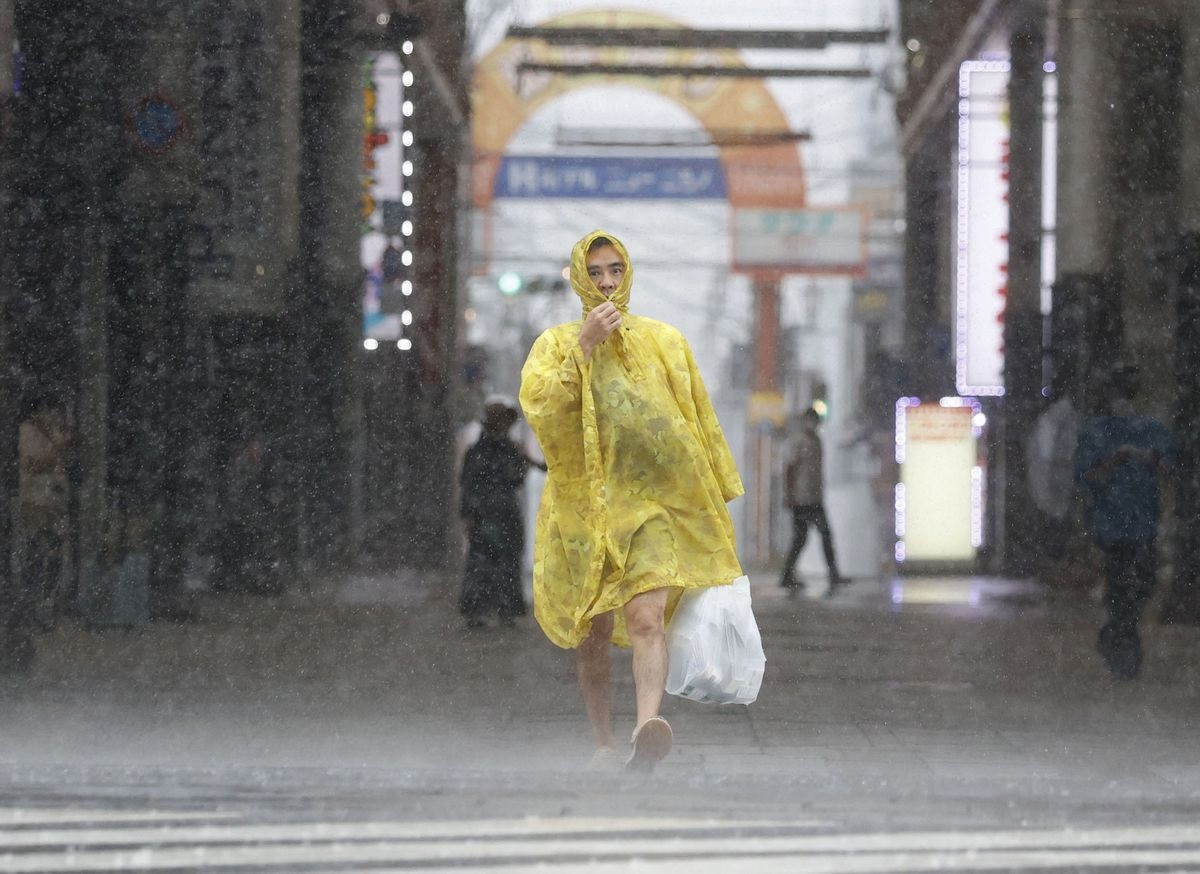 A man walks on the street in heavy rain and wind caused by Typhoon Nanmadol in Kagoshima on Japan's southernmost main island of Kyushu September 18, 2022, in this photo taken by Kyodo. Kyodo via REUTERS ATTENTION EDITORS - THIS IMAGE WAS PROVIDED BY A THIRD PARTY. MANDATORY CREDIT. JAPAN OUT. NO COMMERCIAL OR EDITORIAL SALES IN JAPAN
In the hard-hit Kagoshima prefecture, more than 9,000 residents took shelter at evacuation centres. In the neighbouring Miyazaki prefecture, another 4,700 people evacuated.
Hundreds of domestic flights in and out of the region and public transportation, including trains and buses were also suspended.
California Wildfire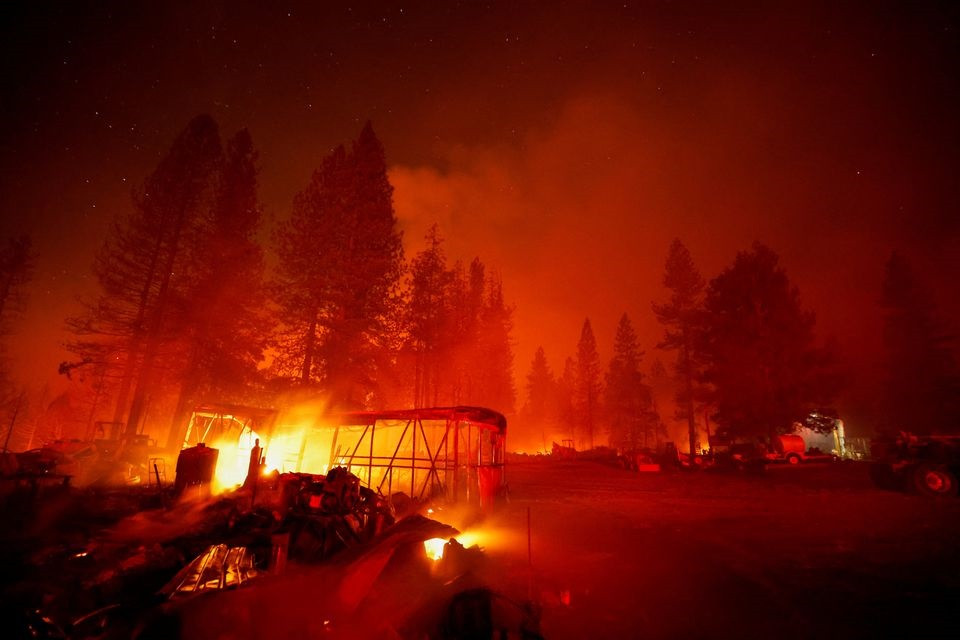 Structures burn in the Mosquito Fire burns in Foresthill, California, U.S., September 13, 2022. REUTERS/Fred Greaves
The wildfire, referred to as the Mosquito Fire, is said to be California's largest wildfire this year scorching 76,781 acres (31,072 hectares).
It had forced at least 11,000 people to evacuate from Foresthill, Volcanoville, Georgetown and other communities between Sacramento and Lake Tahoe.
Federal Emergency Management Agency (FEMA) Administrator Deanne Criswell said that climate change has fueled ever-larger and more frequent fires, adding "we simply cannot shy away from the work required to mitigate future risk."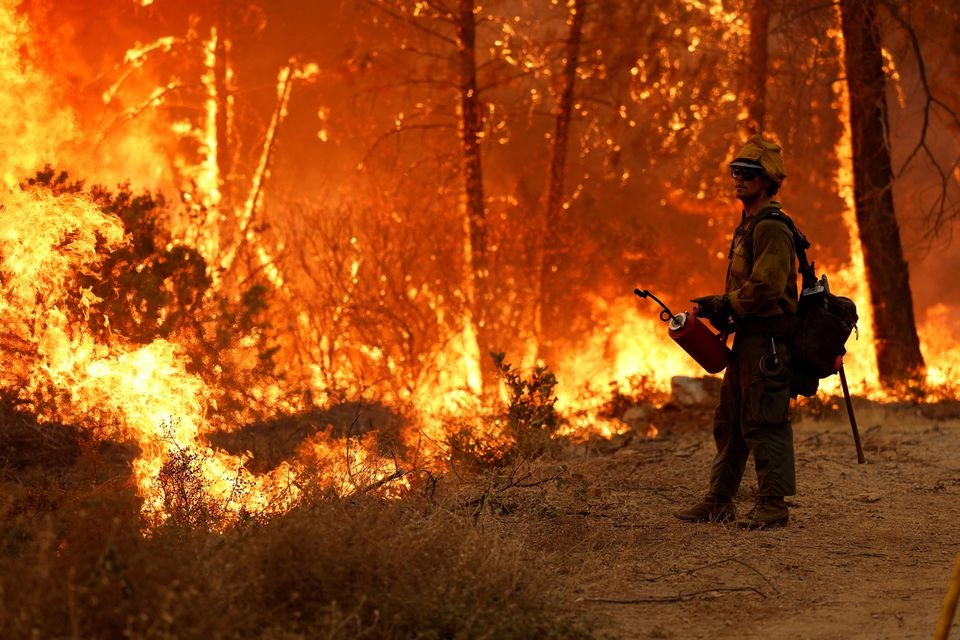 A firefighter monitors the flames from a backfire while fighting the Mosquito fire at Volcanoville, California, U.S. September 9, 2022. REUTERS/Fred Greaves
COMMENTS
Comments are moderated and generally will be posted if they are on-topic and not abusive.
For more information, please see our Comments FAQ