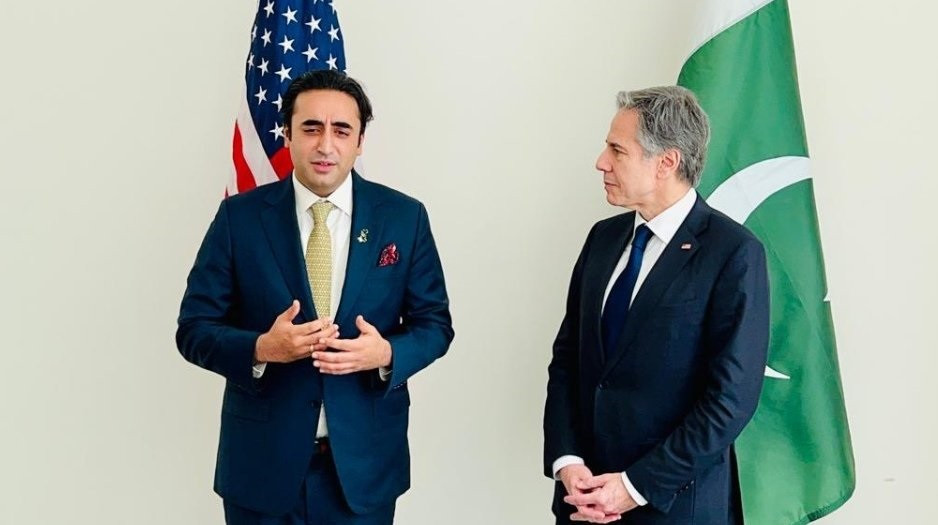 ---
ISLAMABAD:
Foreign Minister Bilawal Bhutto Zardari and US Secretary of State Antony J Blinken have discussed the flood-caused destruction in Pakistan and reconstruction of the affected areas.
During the conversation, Secretary Blinken and Foreign Minister Bilawal "shared their mutual hope for a productive International Conference on Climate Resilient Pakistan in January and discussed the need for close coordination", according to the US State Department.
Blinken offered condolences for lives lost in the recent terrorist attacks, underscoring the United States' resolute support for Pakistan as it combatted terrorism.
Bilawal conveyed gratitude of the government of Pakistan for US flood assistance of $97 million.
He expressed the resolve that the two countries would continue mutual cooperation for rebuilding resilient infrastructure in Pakistan.
Both the countries would also keep up cooperation to further enhance and diversify bilateral relations and to work together for regional peace and stability, he added.
"Spoke with Secretary Blinken conveyed gratitude of GoP for US flood assist[ance] of $97 million. Will continue coop[eration] for rebuilding resilient infrastructure in Pakistan and to further enhance and diversify bilateral relations and to work together for regional peace and stability," Bilawal wrote on Twitter.
Blinken also took to Twitter about his discussion with Bilawal, saying "Express our continued support for the people of Pakistan as they recover from devastating floods."
He tweeted, "I hope for a productive climate conference next month and give my condolences for the lives lost in recent terrorist attacks."
Ties with US 'far more comprehensive'
Addressing the Atlantic Council - a US-based international affairs think tank - in Washington, Foreign Minister Bilawal said Islamabad, since he took office in April earlier this year, had "a consistent back and forth of engagement with the United States (US)" and the itinerary of these engagements had been "far more comprehensive" than in the past.
"We know what great, great things we have managed to achieve together when Pakistan and the US have worked together and we know where we have faltered when we have been unable to cooperate or create that consensus," Bilawal said.
"What I am happy to report is that over the last seven to eight months that I have been the foreign minister of Pakistan, we have had a consistent back and forth of engagement with the US and at various levels," FM Bilawal added.
"Our report card for the last six months of foreign policy with the US-Pakistan relations is that if in the last decade 90 per cent of our conversations were focused around counter-terrorism, the war on terror, now we are engaging far more diversely on a whole host of issues," he continued.
On the exchanges between Washington and Islamabad, Bilawal said: "We have had exchanges on climate, technology, health [...] even potential cooperation in agriculture.
"We certainly do still talk about terrorism in our bilateral engagements but we have a far more comprehensive itinerary in which we are now engaging."
Responding to questions, Bilawal said the story for Pakistan 10 to 20 years down the line was one of opportunity, urging everyone to get it now while they still could when everyone doesn't see that opportunity so they could maximise their benefit later.
Speaking candidly, the FM admitted however that when he brought up the issue of investing in Pakistan's future in conversations, "they are over it".
"[They are] sick and tired, [say] sort out your own issues and then maybe we can think about it," he said, adding however, he had succeeded in convincing potential investors to say "they are willing to give us a shot to come and explore bilateral economic opportunities to send their business teams, to send their commerce teams, to find win-win solutions".
"We are in the very early stages [but] if I can manage to watch this develop one or two stages forward, there is so much opportunity for us to unlock, given the chance."
The minister also reflected on the devastating floods the country experienced during the monsoon season, saying: "We experienced this year what can only be described as a climate catastrophe of biblical proportions."
The "extraordinary" rain-induced floods, Bilawal said, were the worst the country had ever experienced, but he noted that "we didn't experience it alone".
"While we were flooded, China was experiencing the longest drought that they had ever seen," he added.
"Before we were flooded, we were experiencing an extensive heat wave and drought," he added. "You had forest fires raging in California. You had floods, forest fires and landslides I believe in Europe [...] and floods in Nigeria."
This, Bilawal stressed, placed a strain on humanitarian and developmental aid, which at the moment was primarily directed towards Ukraine as it was experiencing war.
Bilawal meets Power
Separately, Bilawal met United States Agency for International Development (USAID) Administrator Samantha Power.
Bilawal and Power discussed long-term cooperation for the rehabilitation and reconstruction of Pakistan's flood-affected areas.
"[I] had a productive meeting with [the] USAID administrator. Thanked for her leadership in galvanizing support for flood relief," he said in a tweet following the meeting.
Power in a tweet said she discussed with Bilawal how communities impacted by Pakistan's recent floods were faring and the impact of US assistance in the immediate aftermath. She also mentioned that the discussion also focused on working together to build resilience in preparing for future crises.
COMMENTS
Comments are moderated and generally will be posted if they are on-topic and not abusive.
For more information, please see our Comments FAQ