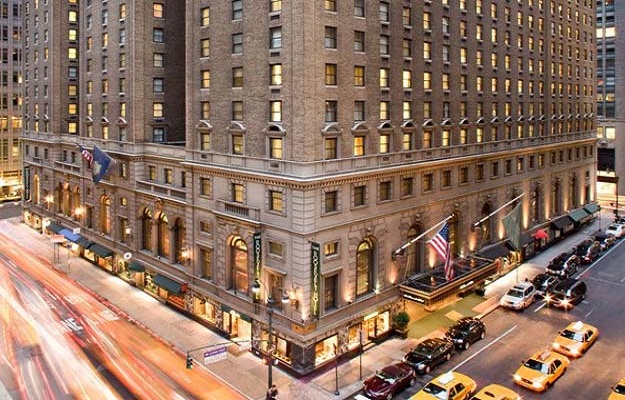 ---
ISLAMABAD:
The Roosevelt Hotel in New York is not the only Pakistan government's property lying idle in the US as there are more such properties in Washington, telling a sorry state of affairs because Islamabad has been unable to make a productive use of those buildings despite its best efforts.
The Foreign Affairs Division has moved to the cabinet the case of two old Chancery buildings, located on 2201 R Street and 2315 Massachusetts Avenue in Washington, which have been lying vacant since the Pakistan Embassy there was relocated to a purpose-built Chancery Building in April 2003.
The old Chancery buildings were discussed during the tenure of many previous governments and several ideas were floated about their productive use but nothing concrete has come out so far. However, in 2010, the then prime minister had approved repair and renovation of both the buildings through a $7 million bank loan.
Also read: Govt crafts plan for use of Roosevelt Hotel
Still, that renovation work could also not be completed as it was hit by inordinate delays because the Pakistani mission had been unable to obtain the permissions from the local government departments in time and because of changes in local building codes.
In June 2020, an inter-ministerial committee recommended that the property should be appraised to determine its market value. Accordingly, a realtor firm was hired through a competitive process in accordance with the Public Procurement Regulatory Authority (PPRA) rules.
The committee considered that proposal that any proceeds from the building sale might be surrendered to the Federal Consolidated Fund (FCF). It also decided that all codal formalities would be followed during the sale process.
Also read: Govt to offer 51% stakes in PIA, Roosevelt to Qatar
It was further considered that the pending loan liability amounting to $1.3 million – over $7 million obtained from the National Bank of Pakistan, Washington, for renovation of the government-owned buildings – might be paid from the sale proceeds.
In 2018, the diplomatic status of the R-Street property was revoked as it had become non-functional, rendering it liable to local taxes. A sum of $819,833 was paid in taxes up to 2019 from the Fund for Improvement of Government owned Buildings (FIGOB).
About a decade ago, only 60% of the repair work could be carried out at the property on the R-Street. Since then, the building remains in semi-renovated idle state. The current government is again considering how to ensure their productive use.
COMMENTS
Comments are moderated and generally will be posted if they are on-topic and not abusive.
For more information, please see our Comments FAQ