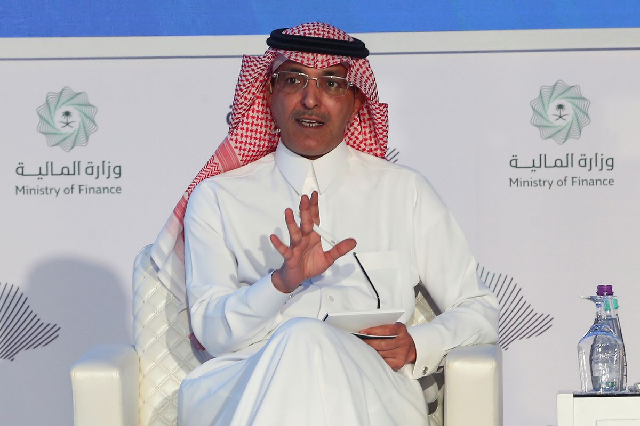 ---
RIYADH:
Saudi Finance Minister Mohammed bin Abdullah Al-Jadaan affirmed on Thursday the kingdom's interest in supporting the regional economies, including Pakistan, by shoring up their deposits and making investments there from the kingdom's Public Investment Fund, the official Saudi Press Agency (SPA) reported.
Al-Jadaan's announcement came at a press conference in Riyadh on the occasion of announcing the state's general budget for the fiscal year 1444-1445 Hijri (2023). He said that the Saudi government was ready to help countries affected by inflation and wanted to start investment projects.
Al-Jadaan stated that Saudi Arabia was part of the world and the region and had interests in it, highlighting what was related to the renewal of deposits for Pakistan, Egypt and Turkey, and the investments of the Public Investment Fund in many countries, according to the SPA report.
According to the US-based Bloomberg news agency, Al-Jadaan also said that the Saudi Arabia would "continue to support Pakistan as much as we can". He added that Saudi Arabia was also looking to do more investments in Egypt and planned to start doing deals in Turkey.
Also read: Pakistan seeks emergency $3b Saudi cash injection
This statement from the Saudi Arabia's financial czar come a day after Pakistan's Finance Minister Ishaq Dar appealed to the Riyadh to give another $3 billion to shore up the country's dwindling foreign exchange reserves. Pakistan had already borrowed $3 billion from Saudi Arabia under the bailout package.
Dar had a meeting with Saudi Ambassador Nawaf bin Saeed Al-Maliki on Wednesday. He also held meetings with foreign diplomats on the second day as part of his efforts to influence the International Monetary Fund (IMF) to seek financial support and ease conditions.
Pakistan's foreign exchange reserves have fallen below the $7 billion level for the first time since January 2019. The current reserves level is about $6.7 billion, which is almost the same as the level of about $6.6 billion on January 18, 2019.
COMMENTS
Comments are moderated and generally will be posted if they are on-topic and not abusive.
For more information, please see our Comments FAQ