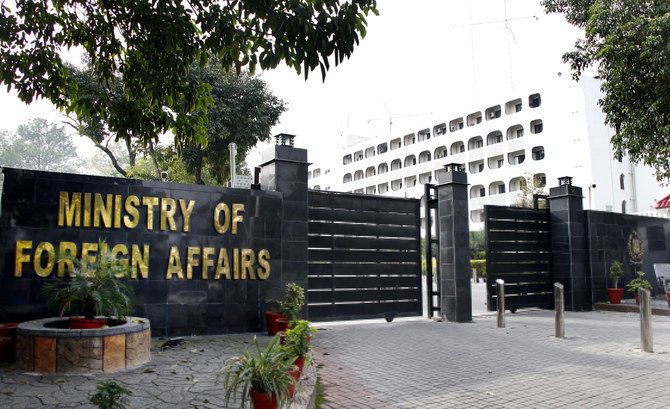 ---
ISLAMABAD:
The Foreign Office expressed deep concern and disappointment on Thursday as the US State Department's "unilateral and arbitrary designation of Pakistan as a "country of particular concern" over religious freedom.
At her regular weekly briefing, Foreign Office Spokesperson Mumtaz Zahra Baloch, said that India was the biggest violator of religious freedom but once again it was omitted from the designation list despite clear recommendation by the US Commission on International Religious Freedom (USCIRF).
The spokesperson stressed that the US pronouncement about Pakistan was detached from the ground realities. "Religious freedom and the protection of rights of minorities are guaranteed in the Constitution and enforced through a range of legislative, policy and administrative measures," she added.
She added that Pakistan noted with deep concern and disappointment that India, the biggest violator of religious freedom, had once again not been included in the State Department's designation list despite clear recommendation by the USCIRF.
"This conspicuous omission raises serious questions about the credibility and transparency of the entire process and makes it a subjective and discriminatory exercise," Baloch told journalists. She also pointed out that dire situation of media freedom in the Indian Illegally Occupied Jammu and Kashmir (IIOJK).
While referring to the demolition of the historic Babri Mosque in the Indian city of Ayodhya by Hindu zealots three decades ago, Baloch said it was a sad reminder of the growing religious intolerance in India, which should not be ignored by the international community.
"International concerns over India's treatment of religious minorities have been the subject of several hearings of the US Congress and reports of UN Human Rights Commission, the Special Procedure Mandate Holders of the UN Human Rights Council, and reputed international NGOs."
Read BJP set for landslide win in Gujarat state
The spokesperson also expressed deep regrets over the non-issuance of visas to its Blind Cricket Team by India for participation in the third T-20 World Cup Cricket Tournament for the Blind. "India's practice of politicising sporting events must end. We have conveyed our deep disappointment and regrets over this incident."
Responding to a question, the spokesperson said India's efforts to portray itself as a torch-bearer of counter-terrorism efforts were ironic. "A country, that is vigorously engaging with other countries on the subject of terrorism, is itself involved in inciting terrorism inside Pakistan which is widely established and documented."
Read More Modi 'taught lesson to anti-social elements' in Gujarat: Indian minister
The spokesperson told reporters that Foreign Minister Bilawal Bhutto Zardari was on a visit to South East Asia and attended the 15th Bali Democracy Forum in Indonesia. He is scheduled to fly to Singapore where he would meet Foreign Minister Dr Vivian Balakrishnan and President Halimah Yacob.
Foreign Minister @BBhuttoZardari participates in 15th Bali Democracy Forum. FM stressed the need for democracies to re-invent themselves to be more responsive to the needs of their people and to cooperate with each other to find people-centric solutions. pic.twitter.com/uMKE6eIYRK

— Spokesperson 🇵🇰 MoFA (@ForeignOfficePk) December 8, 2022
She also mentioned the 5th Round of Pakistan-Argentina Bilateral Political Consultations in Islamabad on December 6, which provided an opportunity to the both sides to discuss matters of mutual interests, including trade, agriculture, and investment cooperation.
The spokesperson told the media that Secretary General of the Organization of Islamic Cooperation (OIC) Hissein Brahim Taha would undertake a visit to Pakistan from December 10-12. "This will be his first visit to Pakistan since assuming the office in November 2021.
Commenting on the attack on the Pakistan Embassy compound in Kabul, she said, "We have noted initial reports of some arrests and claims. We are in contact with Afghan authorities and are following the situation closely. Pakistan expects a full investigation and exemplary punishment for the perpetrators and the planners."
COMMENTS
Comments are moderated and generally will be posted if they are on-topic and not abusive.
For more information, please see our Comments FAQ