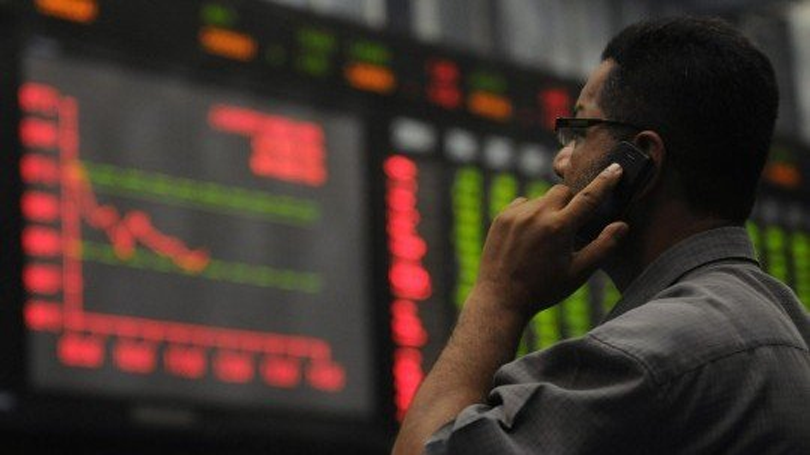 ---
KARACHI:
Pakistan Stock Exchange witnessed yet another session under pressure on Tuesday where the benchmark KSE-100 index continued its downward trend owing to poor macroeconomic cues and a tumultuous political situation. Despite a positive opening, bears held their ground amid thin volumes due to the lack of any positive news.
Market players remained pessimistic as the KSE-100 index maintained a steady decline throughout the day, touching an intra-day low of 41,296.54 points as investors awaited clarity on the economic and political issues. Despite dull trading, the market saw some recovery and the index started gaining ground, managing to recoup some of the losses. However, the index failed to close on a positive note.
At close, the benchmark KSE-100 index recorded a decrease of 72.73 points, or 0.17%, to settle at 41,539.94 at the Pakistan Stock Exchange (PSX). Topline Securities, in its report, said that initially Pakistan equities carried forward Monday's bearish momentum.
The KSE-100 index opened on a lacklustre note and touched an intra-day low of 41,297 (-316 points; or 0.76%). "However, investors started to show some buying interest in the latter half of the day, which assisted the index to eventually settle at 41,540 (-73 points; or 0.17%) for the day," it said. Transport, fertiliser, bank and OMC-sector stocks contributed negatively to the index where Millat Tractors, Dawood Hercules, Habib Metropolitan Bank, Pakistan Tobacco and Sui Northern Gas Pipelines lost 67 points.
On the flip side, Pakistan Services, TRG Pakistan and Systems Limited witnessed some buying interest as they added 61 points collectively. Over 131 million shares were traded at the bourse while total value came in at Rs3.9 billion. Dewan Cement led the volumes chart with trading in 11.3 million shares, Topline added. Arif Habib Limited, in its report, said that a mixed session was witnessed at the PSX. The market opened in the green territory, however, selling pressure built up over the ongoing political clamour in the country.
"Deteriorating macroeconomic factors continued to undermine investors' confidence, resulting in a significant volume reduction in the mainboard as third-tier stocks continued to dominate the volume board," it said. The index closed at 41,539.94, down by 72.73 points (-0.17% day-on-day). Sectors contributing to the performance included automobile assemblers (-27.7 points), chemical (-18.7 points), OMCs (-16.6 points), commercial banks (-16 points) and investment banks/ investment companies/ securities companies (-13.6 points). Volumes increased from 126.3 million shares to 131.7 million (+4.3%), the AHL report added.
JS Research analyst Muhammad Shuja Qureshi said that bottom fishing in the last hour of trading helped the KSE-100 index recover from an intra-day low of 41,297 points and closed at 41,540, down by 73 points. Dewan Cement (+5.7%), WorldCall Telecom (+0.7%), Dewan Farooque Motors (+7.4%), TPL Properties (+4.5%) and Kohinoor Spinning Mills (-1.4%) were the volume leaders. "The market may recover in the upcoming sessions, however, sustainable recovery will depend on positive news flow from the political and economic fronts," the analyst said. Overall trading volumes increased to 131.7 million shares compared with Monday's tally of 126.3 million.
The value of shares traded during the day was Rs3.9 billion. Shares of 326 companies were traded. At the end of the day, 112 stocks closed higher, 186 declined and 28 remained unchanged. Dewan Cement was the volume leader with 11.3 million shares, gaining Rs0.3 to close at Rs5.54. It was followed by WorldCall Telecom with 9.9 million shares, gaining Rs0.01 to close at Rs1.37 and Dewan Farooque Motors with 9.9 million shares, gaining Rs1.04 to close at Rs15.01. Foreign investors were net buyers of Rs487.45 million worth of shares during the trading session, according to data compiled by the National Clearing Company of Pakistan.
COMMENTS
Comments are moderated and generally will be posted if they are on-topic and not abusive.
For more information, please see our Comments FAQ