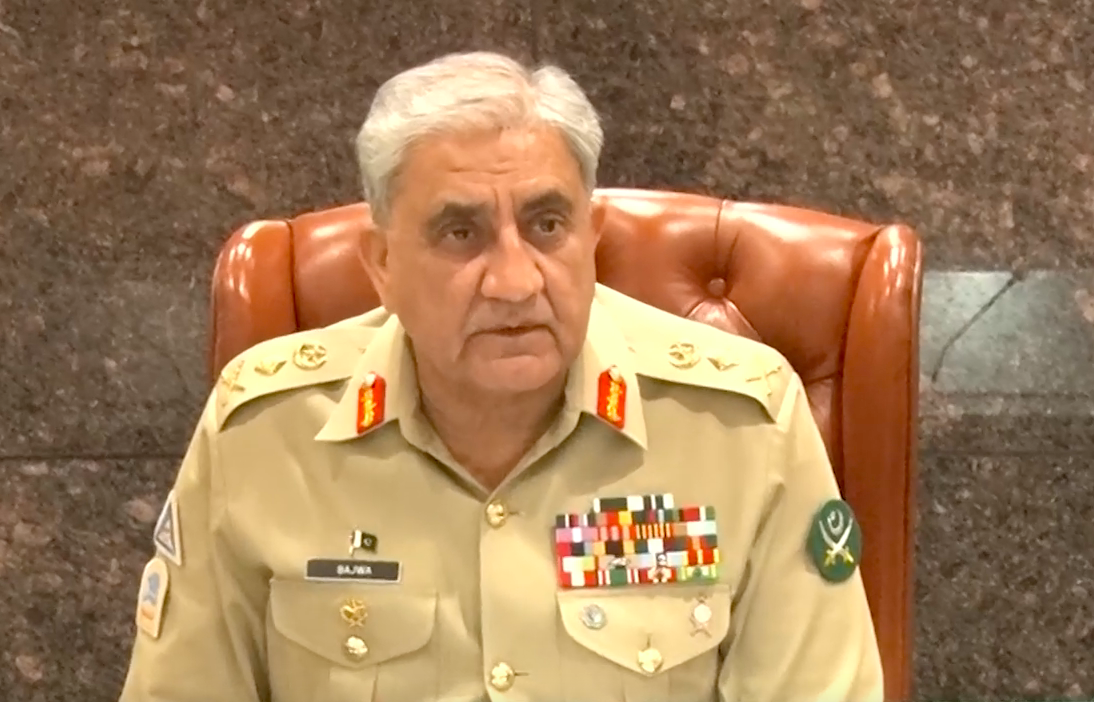 ---
KARACHI:
Pakistan Tehreek-e-Insaf Chairman Imran Khan and his major ally in Punjab, Chief Minister Pervaiz Elahi appeared drifting further away from each other on Sunday on the role of the then army chief, Gen Qamar Javed Bajwa during the no-confidence motion that Imran Khan lost in April.
In recent media interviews, former prime minister Imran accused the now-retired Gen Bajwa of playing a "double game" against his government. However, hours later, Chief Minister Elahi said that the then army chief had nudged his Pakistan Muslim League-Quaid (PML-Q) towards the PTI in March this year.
The comments of Elahi in an interview with a private TV channel endorsed the statement of his son, Moonis Elahi, that Gen Bajwa had suggested that his PML-Q should support the PTI during the no-confidence motion against Imran Khan.
Elahi said that Gen Bajwa had told him that going with Imran was a better option after he shared his reservations about joining the then opposition alliance, the Pakistan Democratic Movement (PDM), because he "did not trust the Sharif family".
Elahi also said that he was wary of accepting the offer from then opposition led by the Sharif family to become the Punjab chief minister in return for supporting the no-confidence motion. "I knew that they [Sharif] would not let me continue [as chief minister] as they have betrayed me in the past," he remarked.
"God changed our path in the last moments and sent Bajwa Sahib to show us the way. When I expressed my concerns about the Sharifs and that I don't trust them then Bajwa sahib said, 'You should proceed carefully and the path going towards Imran is better for you and your friends'," Elahi told the interviewer.
Similar remarks were given by Moonis Elahi in an interview last week. Gen (retd) Bajwa showed him "the right path" to support the PTI, Moonis Elahi had said. The chief minister admitted that Moonis played a major role in convincing him for supporting the PTI instead of joining the PDM.
Days after his son Moonis Elahi made a similar statement, Punjab Chief Minister Parvez Elahi on Sunday said that former army chief General (retd) Qamar Javed Bajwa had nudged the PML-Q to support the PTI and former prime minister Imran Khan.
In the interview aired on last Thursday, Moonis detested a bashing campaign against Gen Bajwa by "a certain section on social media" without any reason. On this, he added, he had disagreement with the PTI and anyone else speaking against the retired army chief.
Just days after Moonis's interview, former prime minister Imran repeated his allegations against Bajwa, accusing the former army chief of playing a double game against his government. He said that it was possible that Pervaiz Elahi was told to go to the PTI and his brother Chaudhry Shujaat Hussain was told to go to the PDM.
"Moonis was asked to support Imran Khan, while the other one [Shujaat] was asked to go to PML-N [Pakistan Muslim League-Nawaz]," Imran said when asked to comment on the statement of Moonis Elahi. Gen Bajwa was playing a double game … even PTI's different men were being given different messages," he added.
Imran was removed from power via then opposition's no-confidence motion in April this year. Initially, it appeared that the PML-Q had decided to side with the PDM against Imran, however, all of a sudden Elahi changed course and joined Imran's camp.
The PTI as promised made Elahi the chief minister of Punjab after a legal battle to remove Hamza Shahbaz from power. Hamza was elected the chief minister after a number of PTI dissident lawmakers had voted for him. The Supreme Court later decided that votes of the dissident members would not be counted.
In the interview, Chief Minister Elahi also said that he was ready to dissolve Punjab Assembly on Imran Khan's call. However, he added, he had given the advice to wait until March. "This is a good opportunity for the opposition to hold negotiations," he added.
COMMENTS
Comments are moderated and generally will be posted if they are on-topic and not abusive.
For more information, please see our Comments FAQ