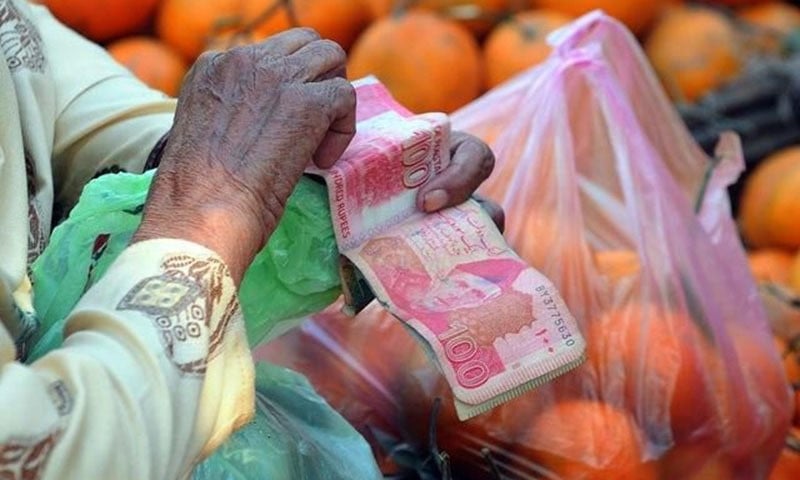 ---
ISLAMABAD:
A slight decrease of 0.16% has been recorded in the weekly inflation, whereas the annual inflation rate remains unchanged at 30.56%.
According to the Pakistan Bureau of Statistics (PBS), the prices of 23 essential items, including matches, potatoes, salt and rice, increased, while 10 items, including tomatoes, onions, ghee and chicken, became cheaper. The prices of 18 essential items remained unchanged.
The price of matches increased by 1.32%, potatoes 1.65%, salt 1.32%, tea leaf 1.72%, while chicken became cheaper by 1.71%, tomatoes 12.26%, onions 2.79%, dal channa 0.68%, lentils 0.64%, vegetable ghee 0.38% and LPG by 0.42%.
According to the PBS, the inflation rate decreased by 0.16% in terms of the Sensitive Price Index (SPI) during the week ending December 1, 2022. However, the annual inflation rate remained unchanged at 30.56%.
According to the report, the inflate rate for the group earning up to Rs17,732 per month was 28.67%; for those earning between Rs17,732 and Rs22,888, it was 29.82%; for those earning between Rs22,899 and Rs29,517, it was 30.90%; and for those earning between Rs29,518 and Rs44,175, it was 31.73%.
Furthermore, for those earning more than Rs44,176 per month, the inflation rate was 30.79%.
COMMENTS
Comments are moderated and generally will be posted if they are on-topic and not abusive.
For more information, please see our Comments FAQ