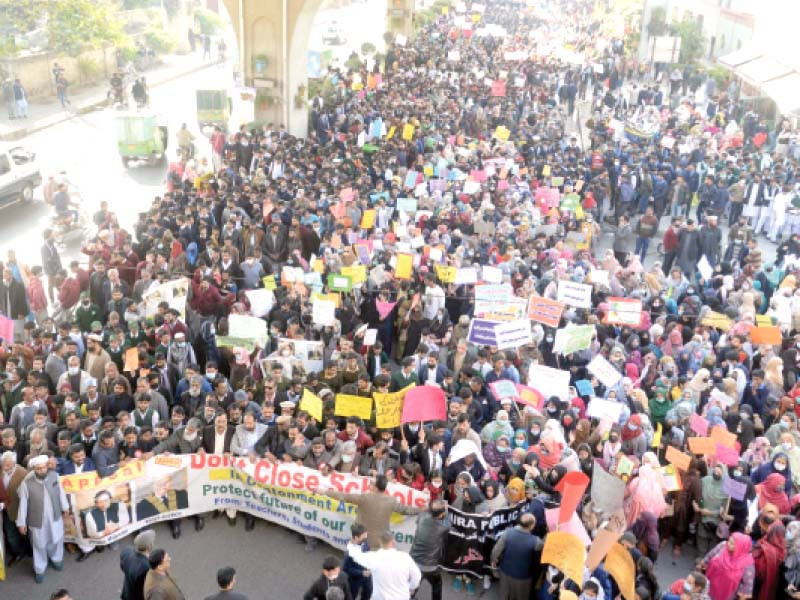 ---
RAWALPINDI:
Students and faculty members held a protest demonstration against the privatisation of the Government Gordon College in the garrison city.
The protesters demanded that Punjab government immediately halt the privatisation of the historical college as they blocked the Liaquat Road and chanted slogans.
The students of the Government Gordon College as well as its faculty held a protest by blocking the road in front of the college's main entrance at 11 am. They also boycotted all of their lectures.
The college administration has launched the "Save Gordon College Movement" to prevent the privatisation of Government Gordon College. Students and teachers have so far held four demonstrations.
The college students took part in the demonstration the day before as well while the officials of the Islami Jamiat Talba also participated in the protest and assured all the students that "under no circumstances will the college be allowed to become privately owned".
"Letters are being written to all college graduates. A hunger strike camp and sit-in outside the college will soon be announced if the Punjab government does not stop the privatisation of the college," they said.
The protesting students said, "Students from the middle-class and low-income households attend the Government Gordon College and with its privatisation, they will be deprived of their education."
They said that not everyone could afford private college fees. "We demand that the Punjab government establish a high-level panel to investigate the issue and permanently close the college's doors to privatisation," they said.
Meanwhile, the students' protest on the main highway badly affected the traffic system. Traffic was backed up for miles coming from Raja Bazaar.
Published in The Express Tribune, December 2nd, 2022.
COMMENTS
Comments are moderated and generally will be posted if they are on-topic and not abusive.
For more information, please see our Comments FAQ