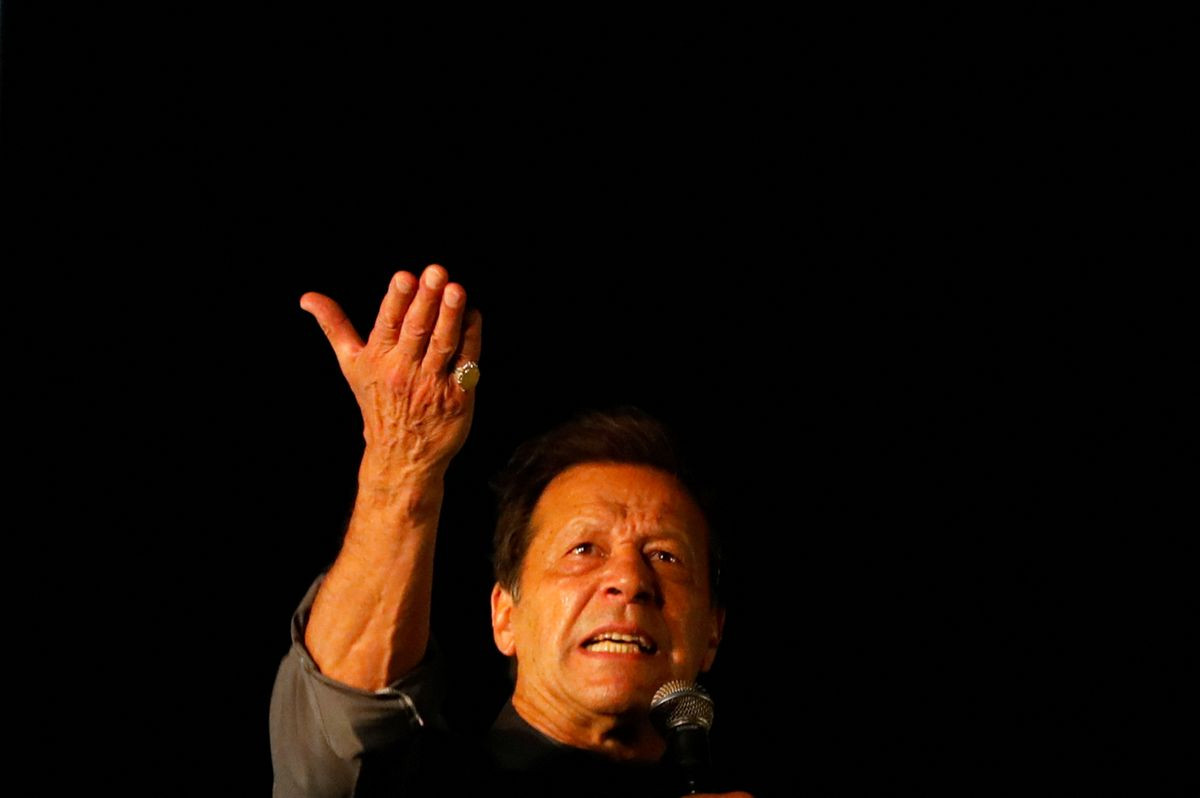 ---
ISLAMABAD:
An Islamabad anti-terrorism court (ATC) was told on Monday by Pakistan Tehreek-e-Insaf (PTI) chief Imran Khan's counsel that the federal capital administration was not allowing the deposed premier to enter the city.
Judge Raja Jawad Abbas of the ATC inquired about the PTI chairman's absence from the court hearing, and what city he was currently residing in. Judge Abbas was hearing the former prime minister's interim bail application in the case pertaining to holding a protest and interfering in state's affairs.
The counsel for PTI chairman, Babar Awan, told the court that the PTI chief was in Lahore, and wanted to appear before the court personally, but the Islamabad administration was not allowing him to enter the capital.
Prior to presenting this argument, Awan had submitted Imran's medical reports to the court, informing it that the PTI chief was injured and could not travel.
However, the court observed that the former premier was present at a political gathering [two days ago], adding that this case cannot be delayed further.
The court asked Awan if he had a written order stating that the deposed prime minister cannot enter Islamabad. The PTI lawyer replied that the he did not have the order in writing, adding that this was verbally communicated.
Read Won't form govt without two-thirds majority: Imran
The ATC then ordered Awan to ensure Imran's appearance at the next hearing of the case as it adjourned it to December 9.
The court stated that it could also ask the Islamabad administration to explain the issue of the former prime minister's entry into the capital.
'Violating Section 144'
The Islamabad police had filed a case against PTI chief Imran Khan and other party leaders for violating Section 144 during their rally in Islamabad held in August.
According to the first information report (FIR), filed by Assistant Sub-Inspector (ASI) Muhammad Anwar, the federal capital police had made announcements through loudspeakers that Section 144 was imposed in the city, however, the party continued to hold a rally.
The party leaders had participated in the rally to protest PTI leader Shahbaz Gill's arrest and 'custodial torture'.
According to the PTI leaders' lawyers, the case against them was "baseless", adding that the rally was peaceful and the cases were an "attempt to suppress" the leaders.
COMMENTS
Comments are moderated and generally will be posted if they are on-topic and not abusive.
For more information, please see our Comments FAQ