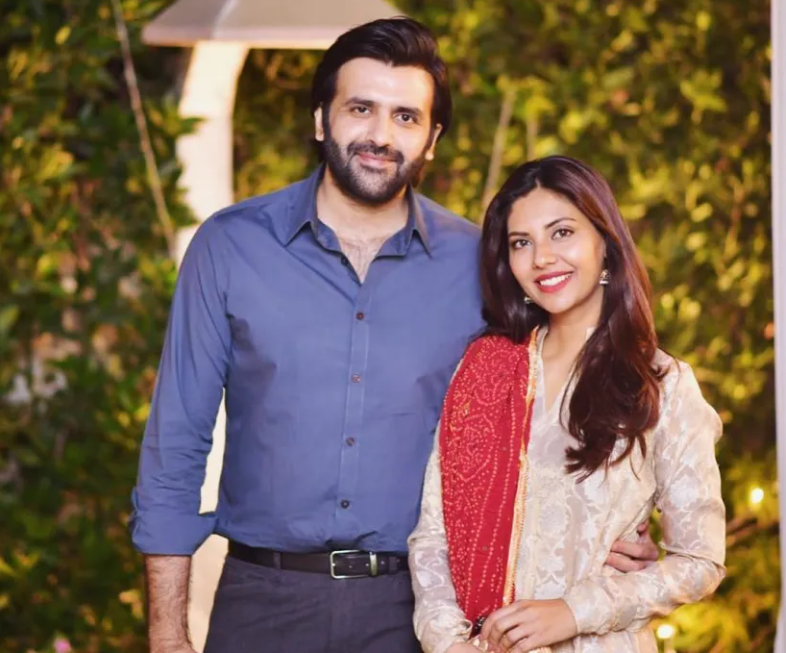 ---
Actor Hassan Ahmed has responded to an interview his model-cum-actor wife Sunita Marshall recently gave about her life and career, in which she also touches upon the struggles Ahmed faced as an actor. The Beqadar star has categorically stated that whatever was said, was "Sunita's version of events," a lot of which were "incorrect", and even if they were correct, only he has the right to talk about his struggles and only he gets to decide when and whether he even should.
Sunita, during her conversation, recalled the time she and Hassan started dating, and members of the entertainment fraternity began speculating about his wealth. "People were trying to figure out who he is and how rich he is. They thought he must be very well off, if I was seeing him. I don't know why people think this way here. But anyway, Hassan had dropped out of this advertising agency because he wanted to come into acting. Again, this was not my decision, it was his decision and I totally supported it. I was glad, mujhe he dekh ke shoq charha hai na (watching me propelled him) obviously. I was booming at that time, MashaAllah."
Sunita then reflected on how she got work, and kept getting work, but alleged that was not the case with her husband. "He had to struggle a lot. And this one time, a year passed, and I told him, 'Listen, give it six months more. But if you don't get any work, do something else. You can't keep sitting at home.' Obviously, he was very sad and he really wanted to become an actor, it was his passion."
Sunita also discussed her husband's anger issues and revealed how she kept calm during their rough patch, which helped their relationship become stronger. She went on to commend Hassan for never taking professional favours either. "I didn't help him, and he fetched projects on his own, he's MashaAllah doing well on his own," she shared.
In response to the interview, Hassan took to his Instagram to share a video. Providing a disclaimer. He said, "So I wanted to talk about an interview that my wife Sunita gave to Fuschia Magazine a couple of days ago. That interview went on air yesterday and I watched it. Since it's a public interview, I wanted to publicly clarify a few things myself."
Hassan added, "Whatever Sunita has said, it's her own version of events. And it coincides with my version of events. And a lot of things that were said, were incorrect and even if they were correct, they should stay between husband and wife. Everything shouldn't be made public."
He went on to declare, "And only I have the right to talk about my struggles. No one else has that right. And that too, I will decide when I want to talk about them. Because watching that interview makes me feel like it puts a pitiful light on me. And I don't like that. I'm a strong man and I have been through my share so I did not think that was right."
---
Have something to add to the story? Share it in the comments below.
COMMENTS
Comments are moderated and generally will be posted if they are on-topic and not abusive.
For more information, please see our Comments FAQ