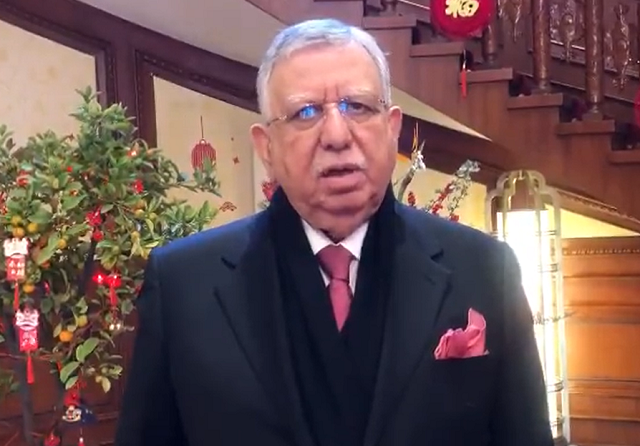 ---
Former finance minister Shaukat Tareen has said that the government should stop blaming the Pakistan Tehreek-e-Insaf (PTI), and if the government shows a balance of inflows and outflows the situation will become clear and the speculation of default in the markets will end.
He said this while addressing a press conference along with Muzammil Aslam at the Karachi Press Club on Monday.
He remarked that PTI does not want Pakistan to default and God-willing, it will not default. The tax revenues are decreasing due to which the fiscal deficit has increased, he pointed out.
Tarin said that in the first quarter of the ongoing financial year, the fiscal deficit was estimated at Rs400 billion, which has now increased to Rs810 billion. The government managers themselves are admitting that the GDP growth may be 0 percent, he said.
He added that it is not known when the International Monetary Fund's (IMF) review will take place.
The former finance minister said that incumbent Finance Minister Ishaq Dar said that he will review the deal with the IMF. "What happened to him? Ishaq Dar said that he will bring the dollar below 200 but it did not happen, and at present, the interbank rate is Rs224, and the open currency rate is Rs230, but in the open market it is available at Rs240," he highlighted.
He also said that Dar said that he would talk to the rating agencies about downgrading Pakistan's rating, but he increased the risk of credit default. There is only one solution to all these problems – to end political instability – and that is the announcement of new elections, he added.
Tarin said that the government took a loan of Rs6.5 billion in six months. This government made a loss of Rs3,000 billion in six months, and the IMF has stopped talking to this government, he claimed.
He further said that by increasing the utility tariffs, inflation will increase, and the difficulties of industries will increase. Due to the non-availability of gas in winter, unemployment will increase, and industries will be closed, he added.
The former finance czar said that the difference in the value of the dollar in the formal and informal markets is Rs17. "When the dollar is stopped in the interbank, the value of the dollar will increase, LCs are not opening, LCs worth billions of dollars are stopped. We are not saying this, the market is saying it," he said.
Aslam said that the government has stopped paying attention to Pakistan and only foreign visits are taking place. "It is for the first time that the country has not been stabilised after the IMF programme," he pointed out.
COMMENTS
Comments are moderated and generally will be posted if they are on-topic and not abusive.
For more information, please see our Comments FAQ